Christian Nunez was All-CIF athlete at SGHS who possesses student mediation skills
2 min read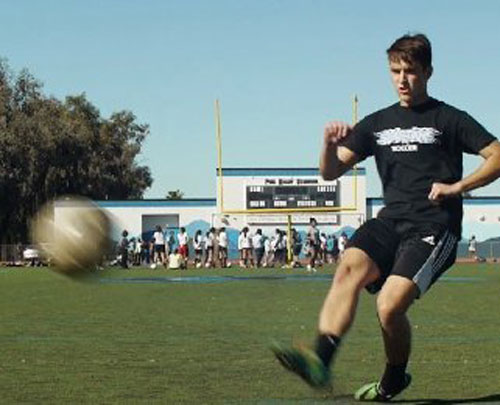 Christian Nunez was not just a four-time male athlete-of-the-year at San Gorgonio High School, he was appointed by school administrators as one of two peer conflict mediators. When not scoring goals, running the 400, or swimming the butterfly, it was Nunez's job on campus to settle conflicts between students before the situation moved onto expulsions. Nunez will be majoring in international business at UC San Diego starting in September.
Nunez said most campus conflicts were usually two students fighting in class. "It wasn't my job to make them become friends. I just tried to make them see the other persons point of view and have them try to avoid the situation," explained Nunez. "They would be referred to me by the campus counselor. It was very effective. If needed, I could be called as a police witness but everything that we discussed at school was confidential. It also made me become a better person and helped with my social skills."
He credited San Gorgonio adult personnel with encouraging him and likewise took advantage of every opportunity the school offered. He graduated 16 out of 344 seniors with a 4.12 GP and was selected as San G's male Ken Hubbs Award nominee. Nunez completed the rare combination of making all-San Andreas League in soccer, water polo, and swimming. He was two-time All-CIF in both soccer and water polo and was three-time league champ in the 100 meter butterfly swim. He ran track as a sophomore.
"To be selected boy athlete of the year four years in a row is almost impossible," said SGHS Athletic Director Matt Maeda. "We identified Christian as a freshman as an exceptional athlete. He was a three-year member of our G-Force Athletic Academy and was my president as a senior. Just an extremely solid individual who was really involved."
Nunez was a member of San G's "Odyssey of the Mind" state championship team that qualified for the world championships this year at Michigan State University. The Odyssey of the Mind is a competition where each team of seven must solve a difficult technological problem. San G placed 19th out of 70 teams due to its inventive medieval machines based on rubber band propulsion.
Through his advanced placement American government classes, Nunez became part of its extended cabinet, whereby once a month he would attend San Bernardino Unified School District board meetings with SGHS Principal Dion Clark. "I would address the Board from the podium or sometimes meet one-on-one with the Board president. Usually about issues affecting our school," said Nunez. "I learned about money issues and learned the skill of speaking in front of a crowd."
Among his other activities, Nunez was president of the SGHS Athletic Leadership Academy; was two year captain of soccer and water polo teams; was in calculus club, and still works 20 hours per week at Pizza Hut.