Colton Area Museum presents "Highlights of the Colton Murals" by speaker Eliseo Art Silva
2 min read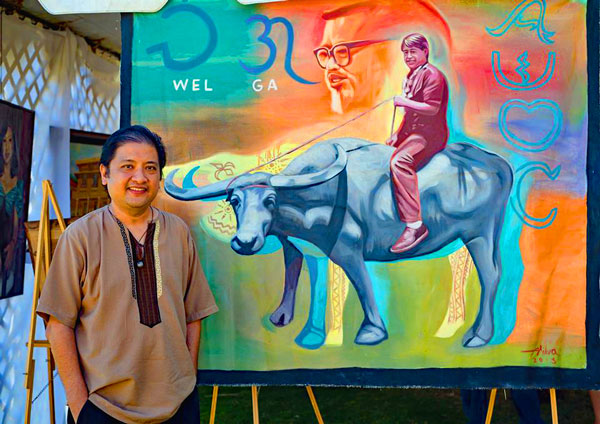 On Saturday, April 14, at 2:30 p.m., the Colton Area Museum's (CAM) guest speaker program will feature Eliseo Art Silva, artist and painter of the Colton – La Cadena underpass historical murals.
Eliseo Art Silva is a contemporary artist, teacher, and author of Filipinos of Greater Philadelphia (Arcadia Publishing, 2012). He is internationally-known for the Gintong Kasaysayan Filipinotown mural, and recognized by LA Weekly as one of the 20 iconic murals of Los Angeles. Silva has taught mural art at California State Dominguez Hills, the School District of Philadelphia in partnership with the Mural Arts Program and the California Polytechnic University Pomona.
His work has been featured at the Smithsonian National Museum of American History, the Delaware Center for the Contemporary Arts, Riverside, CA`s Sweeney Art Gallery, D.C`s Conner Contemporary Art, Cue Art Foundation in NY, the Nehru Gallery in India, the Piramide Cultural Center in Mexico, the Cultural Center of the Philippines, Canada`s Plug-In Gallery and the LA County Museum of Art.
He is the artist behind the La Sierra Passages 91 Freeway underpass murals in Riverside, CA; the Carlos Bulosan Memorial in Seattle, WA; the a shenere un besere velt Jewish/ Yiddish mural in LA; the Philippine Nationality Room at the University of Pittsburgh, PA; the Price of Freedom US Veterans Memorial in Lompoc, CA; and My Heart`s Sole Burning Fire, the first outdoor Filipino-themed mural in the East Coast.
Community residents and visitors alike are invited to attend this exciting event on April 14 at 2:30 p.m. The Colton Area Museum offers an interesting slate of guest speakers throughout the year. They represent a wide variety of perspectives and experiences that are not only informative, but inspirational for those who want to know more about Colton's History – past, present, and future.
The CAM will also be open that day, April 14, 11 a.m. – 2 p.m. providing the opportunity to see the many outstanding displays of Colton history. The CAM is located at 380 N. La Cadena Dr. in Colton. Regular CAM hours are Wednesdays and Fridays from 1 – 4 p.m., and on Saturdays 11 a.m. – 2 p.m.
For more information about the museum and its programs, contact the museum at (909) 824-8814, or Dr. G at (909) 213-3730.
By Dr. G (Dr. Luis S. Gonzalez)