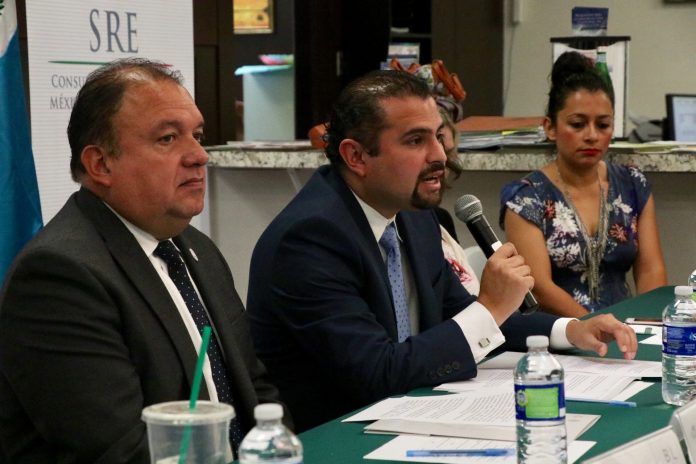 Both the Guatemalan and Mexican Consulates held a press conference at the latter's headquarters in San Bernardino Monday to discuss the rights of laborers and the uncertainty surrounding the Deferred Action for Childhood Arrivals program.
Labor Rights Week–organized by the Mexican Consulate every year, and this year running from August 28 to September 1–promotes the rights of all workers, even those who are undocumented. Workshops and presentations will be held through September 1 to inform workers of legal options they have in case they face employer misconduct.
Mexican Consul Salomón Rosas Ramírez and Guatemalan Cónsul Billy Muñoz were joined by  immigration and labor attorneys in discussing the bad treatment and injustices Latino laborers face.
"It's important to hear the testimonies of workers" said Rosas. "We should not permit any injustice to occur."
Rosas said both consulates face "hundreds and hundreds" of cases every year regarding employment malpractice. Muñoz believes it's important to protect the rights of people that continue to contribute to the U.S. economy.
"Now more than ever we need to be united," Muñoz said.
Immigration Attorney Hadley Bajramovic explained her law office has become more effective in assisting Guatemalan and Mexican nationals about labor and immigration issues. Bajramovic said several VISA types allow laborers to report crimes and misconduct.
Hadley also addressed the future of DACA, which helps those who entered the U.S. illegally as children to work and attend college. A decision to eliminate the program and deny renewals of work permits may come from the federal government as early as next Monday, Hadley explained.  The Riverside-based attorney said about 300,000 DACA recipients are Mexican and 100,000 are Guatemalan.
"This will affect our economy greatly," Hadley said.
Federal legislators are currently discussing reviving the DREAM Act, which intends to provide a more comprehensive pathway for legal residency. However, Hadley said it's "too early" to tell if it will go through Congress and Senate.
Former cook Juan Oliva shared a testimony relating to his experiences in the workplace. The 31-year-old explained that he was not given vacation and overtime pay by his former employer, and was later fired when standing up for himself. He turned to the Mexican Consulate, who referred him to Coachella Valley-based Labor Rights Attorney Megan Beaman-Jacinto.
"Many lawyers weren't able to help me, until I got help from the Consulate and Beaman-Jacinto," Oliva said in Spanish. "I didn't know there was a solution, but by making an attempt to find help I was able to find solutions. We have rights too."