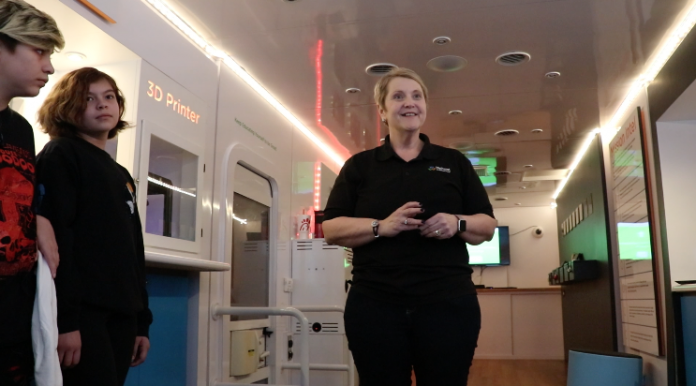 Wouldn't you want to be in a classroom where students are excited to take on problem-solving situations?
One educational group is offering a way to provide students and teachers with "hands on" experiences to transform their learning environments.
The iSchool initiative stopped by the Mojave Desert Academy in Colton on March 6 to introduce the 'Escape the Bus' to the campus. The organization partners with technology companies like Cisco to help students prepare for "21st Century" jobs that require using up-to-date and state-of-the-art gadgets.
"While content is important, [students] need to learn the effectiveness of communication and critical thinking skills," explained iSchool initiative representative Teresa O'Dowd.
Inside the 'Escape' bus students are introduced to the concept of hands-on problem solving through a video that illustrates the problem with our nation's educational system–one that is antiquated and leaving students unprepared for the future.
In a future scenario, students are dropping out in detrimental numbers due to boredom and apathy. Using journals and other clues left behind by dropouts, the students at the Mojave River Academy worked together in groups to try to gather clues and resolve the issue.
"They're using what we call the 'Keys to being great'," said O'Dowd, an educator and technology expert with 29 years of experience. "It's a very rewarding job."
According to their website, the iSchool initiative's mission is to help schools embrace technology and create a positive culture of lifelong learning. They do this by empowering students to have a voice in education, and supporting teachers' use of technology in the classroom. The organization has impacted over 160,000 students, teachers, and administrators nationwide since its founding.
Mojave River Academy Director Kari Hemsley said the charter school's students really benefited from the interaction.
"We wanted to expose our students to the opportunities that they could not get elsewhere," she said. "We're also hoping to inspire teachers to institute these collaborative and hands-on techniques in their teaching."
The 'Escape the Bus' will be traveling to a school in Yucaipa, before it travels up to Sacramento. For those looking to learn more about the iSchool initiative, you can visit their website here.