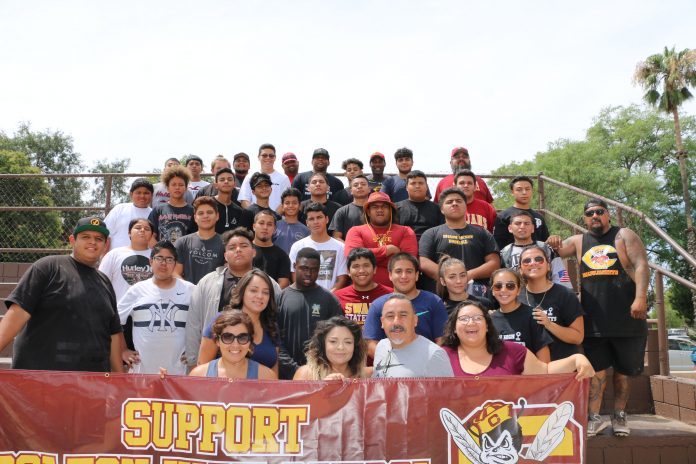 On Saturday, July 21, members of the community were invited to Elizabeth Davis Park to support Colton High School's football team, The Yellowjackets.
Colton High School's Football Stadium is currently under construction, which began in 2017. For the upcoming school year the football team needed a new place to host its home games, but also to fundraise.
Lavonne Araujo, Colton High School's Booster Club President, stated the football team would be playing their games at San Bernardino Valley College for the season.
But they would be unable to earn money through admission and concessions as they have usually done during past seasons. The Booster Club came together and organized a softball tournament as a fundraising event.
"Many of the boys had enjoyed playing softball before, this provided a chance for bonding between the different parents and boys on the football team," said Araujo. "We want this event to not only gain help from the community but also give back to the community."
Along with the softball tournament, food and beverages were sold such as tacos, cotton candy, and hamburgers.
They sold Colton High School T-shirts and tank tops, while also selling raffle tickets for gift baskets filled with hats, t-shirts and so much more.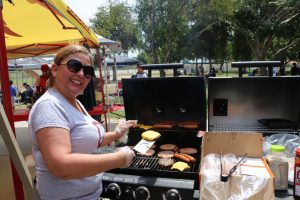 "The event went very well, we were excited to be a part of it and help support the High School football team," said Cecilia Castorena, a vendor at the fundraising event.
Colton City Mayor Richard DeLaRosa and Councilmen Ernest Cisneros attended the event to show their support and donate to the cause.
"The sports league with their coaches, supporters, and coordinators do so much to keep our kids involved. They help to keep our children active in clean activities while bringing the community together," said Mayor DeLaRosa. "The city can't do it alone, and the sports league with its supporters are a tremendous help."
Proceeds from the fundraising event will be used to purchase the Colton High School football team's jerseys for the season.
While the Colton High School's stadium is scheduled to be completed in November of 2018, Araiyo stated they will also be fundraising to help get the team anything they need in the future for the season.
"The turnout was amazing, and we are really grateful for all the people who showed up to show their support for the local team," said Araujo.