In the grip of student debt
3 min read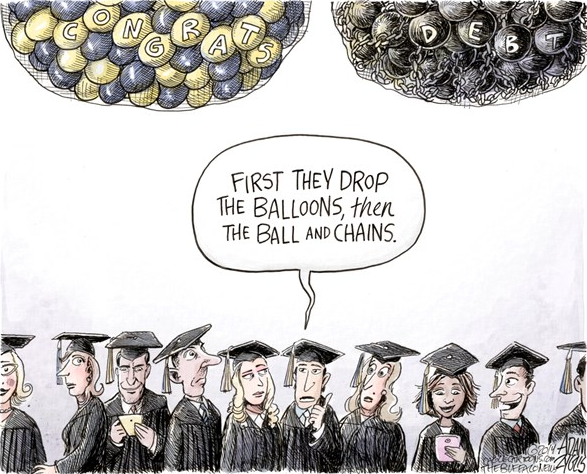 Prominent businessman Dave Ramsey once said that there were, "no shortcuts to getting out of debt."
Well Dave, many college graduates could sure use one right now.
Private company LendEDU recently compiled rankings to determine which institutions in the California State University and University of California systems have the highest average number of students in debt. Cal State San Bernardino is No. 2 on its list; UC Riverside, my alma mater, is No. 4.
Like thousands of other college graduates across the state, I'll be spending several years (if not decades) paying off over $20,000 in student loans.
Since I graduated from college two months ago, I've spend a large number of my time thinking how I could repay my student debt. An extra paycheck might help me do it. I can be a writer by day, an uber driver by night, or perhaps a barista on weekends. It's an inconvenient truth that pains so many of us here in the Inland Empire.
Young adults need to make better financial decisions in order to fiscally solvent. But isn't it a bit odd that students of other developed nations such as Germany pay absolutely nothing for higher education, while we mandate college students to pay an average of $29,000 annually for tuition?
It's time we have a truthful discussion. The students taking out Federal Student Loans and private advances don't hail from wealthy families. They grow up on San Bernardino's Westside, Riverside's Casa Blanca barrio, near Colton's train tracks–with very little insight on how to manage finances for survival, let alone for college.
What can we do to help teach financial literacy to young adults? We can start by being honest. And so far, I think some people have been.
Peter McPherson, president of the Association of Public and Land-grant Universities, wrote in the Los Angeles Times that the issue does not deal with degree earners who hold debts, but with those who fail to finish college and incur expenses. He points out that students who do not earn degrees are more likely to default on loans, and those who do graduate do so with less than $60,000 in debt. Moreover, McPherson explains earners of Bachelor's Degrees can add up to $1 million to an employee's lifetime earnings.
McPherson's right. We have to hold ourselves responsible to the choices we make as students to take out loans, and deal with the potential consequences that comes with such decisions.
Nonetheless, our country needs to take measurable steps to deflate debt instead of providing deferments. A band aid could only hold a wound for so long.
Incentives need to be offered to attract graduates to careers in respectable positions, such as public service, education, and law enforcement, while providing them with loan assistance. The Public Service Loan Forgiveness program is a good step towards that. However, I think they should reduce the number of months of payment from 120 to 60 (5 years).
I admit that I'm quite surprised by LendEDU's efforts to remind us all that we need to get our [expletive] together. But I'm even more surprised by the federal government's ability to finally recognize that student debt is a national crisis.
"Bernie Sanders and I will work together to make college tuition-free for the middle class and debt-free for all," Clinton said during her speech at the Democratic National Convention last month.
Until that happens, I'll continue to search for a second income.
You can find more information on student loan debt here.