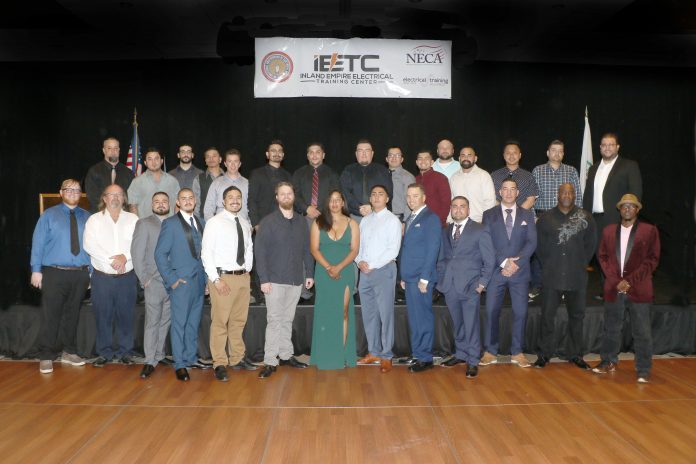 On Saturday, June 8 the Inland Empire Electrical Training Center (IEETC) held a graduation ceremony for 36 apprentices at the Doubletree Hotel in Ontario. 20 Journey Level Wireman were from the International Brotherhood of Electrical Workers (IBEW) San Bernardino Local Union #477, and 16 Journey Level Wireman from the IBEW Riverside Local Union #440, including 5 Sound and Telecommunications Installers. Completing the 5-year apprenticeship training program were two lady Journey level Wiremen – Angela Palomares from the San Bernardino Local, and Khadeejah Gibson from the Riverside Local.
Master of Ceremonies was Richard Purper, the Training Director for the IEETC announced the 2019 Electrical Project Awards. In the Commercial category – the Morrow Meadows Corporation was recognized for the Saboba Casino Resort project; Education category- Giant PowerComm was recognized for the All Risk Training Center in Rancho Cucamonga; Health Care category – the Sasco Electric was recognized for the Riverside Community Hospital project; and in the Industrial category – Morrow Meadows Corporation was recognized for the WRCRWA 14 MGD Plant Expansion in Eastvale.

Most of the apprentices were able to complete the 5-year program by attending weekly training classes in addition to their normal 40-hour work week. Six of the apprentices completed their training in a 2-year Accelerated Program. During training apprentices are paid an hourly wage while working with union contractors. However, once they graduate from their training program the now Journey Level worker receives a significant increase in pay to about $45 an hour with associated benefits amounting to an additional $15 an hour.
Roger Roper, Business Manager for the IBEW Local #440, presented the Outstanding Apprentice of the Year Awards to Khadeejah Gibson, and Matthew Betham. Jason Eshelman, Business Manager for the San Bernardino Local #477, presented the Outstanding Apprentice of the Year Award to Joel Ballesteros.
David Shankle, Director for the National Electrical Contractors Association, presented the most prestigious Willis L. Fehlman award to Caleb Martines from San Bernardino Local #477. Caleb was able to maintain a high grade average and had outstanding performance evaluations from his employers and instructors. This award is based on the apprentice's outstanding academic achievement, superior job performance, building brotherhood, and commitment to excellence in the union electrical industry. Caleb, a proud father, brought his youngest daughter with him to receive his award, which was an Antique Electric Meter Lamp!
IEETC training is free.  However, candidates must first meet some minimal qualifications and pass a written and oral evaluation.  About 94 percent of the apprentices succeed and go on to have meaningful careers as paid journeyman as electrical workers.  The IEETC program allows apprentices to "get paid while you learn." For more information on the IEETC program in the Inland Empire, call 909-890-1703, or go to www.inlandempirejatc.org.