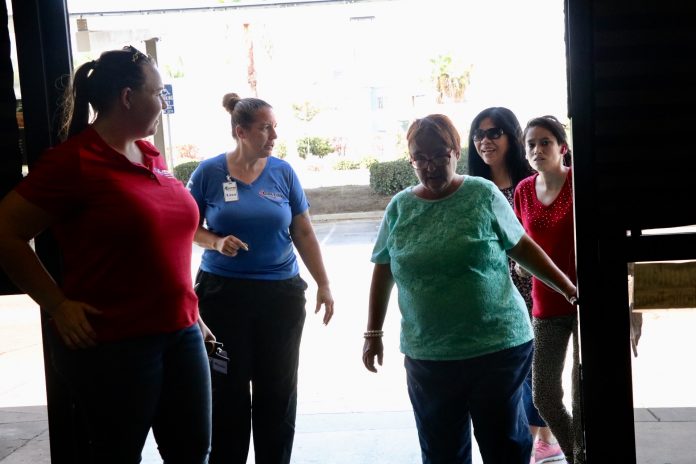 UPDATE: As of 3:45 p.m. all power city wide has been restored. 
---
A lightning strike has left thousands of Colton residents without electricity. Officials are working to re-power the city after a Southern California Edison substation was struck this morning.
Officials say the entire city could have power as of 5 p.m.
Residents that are experiencing difficulties have been directed to the Gonzales, Hutton, Luque community centers and to Paul J. Rogers elementary to receive cooling services.
"Our cooling centers will be open as long as they are needed by residents," explained Colton Community Services spokesperson David Santos. "We're encouraging that senior citizens, young children, pets, and the disabled be taken to the centers. We're also encouraging people to help their neighbors in this time of need."
Julia Bonilla, 71, said she's been able to stay refreshed under the "nice and cool" conditions of the Hutton Center.
"I'm glad the city reacted quickly," she said. "I've been without power since the morning. It's been difficult to withstand the heat."
Jeanette Velazquez brought her three children to the Hutton Center to get away from the "unbearable" conditions of her home.
"It's horribly hot without air conditioning inside our house," said Velazquez. "My children were getting nauseous, so I decided to bring them here to keep them safe."
Meanwhile, Peter Kyababchian–the owner of the 5 Point Auto Service and Gas Station on Washington Street–sat in the shade with his workers anticipating the return of power.
"We were only open for two hours this morning, and then the power went out," explained Kyababchian. "It's definitely slowed us down. Hopefully we can still gain something from this day."
At Western Healthcare, on the city's east end, a representative said that the facility was relying on backup generators, and as of 2:30 p.m., all residents were doing well and accounted for.
"We are working on hydration, and we have multiple fans going. We do not have air conditioning but the residents are fine and we've had no issues, said the Director of Nursing, who wished not to be identified and was not authorized to speak.
The city began experiencing citywide power outages at 6:30 a.m. due to the lightning strike, according to a city press statement. About 50,000 residents are without power. Businesses and city services are also being affected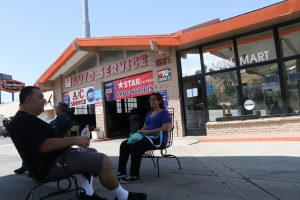 "Hopefully this is an overly conservative estimate, and we have staff continuing to talk with them," reads the email. "Our crews can do nothing until the M Street Sub is back on-line."
The Colton Joint Unified School District confirmed some schools have closed for the day. Those schools are: San Salvador Preschool; Rogers, Grant, Lincoln, Birney, Mckinley, Cooley, Reche Canyon, Washington, and Wilson Elementary Schools; Colton and Terrace Hills Middle Schools; and Colton and Grand Terrace High Schools.
CJUSD officials confirmed that classes at the closed school sites will resume tomorrow.
Resident John Phipps, who has children that attend school at Colton High School and San Salvador preschool, said he's glad local agencies swiftly responded to the power outage.
"I'm glad to see that the city is responding quickly to the loss of power, as are other agencies across the IE," he said. "The fact that the school district has reacted quickly to keep children at home makes me feel like the district personnel are on the ball and looking out for our children's best interest."
R.A. Contreras contributed to this story.