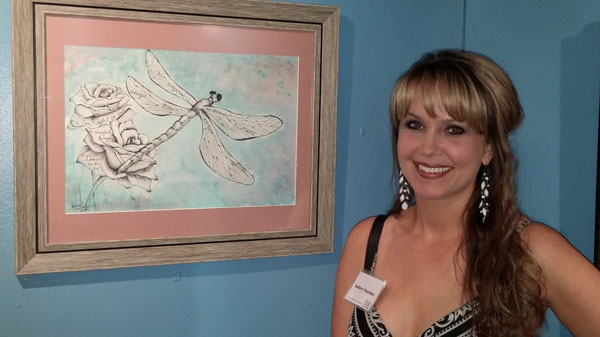 Local artist Aubrey Sanchez is wanting to have a heart-to-heart with the community.
The Redlands native and Yucaipa resident underwent her third heart surgery in July and the overwhelming success has made her more thankful than ever and feels the need to "pay it forward."
"I'm able to live without having limitations," she said.
Doctors at UCLA Medical Center were able to correct an electrical pathway condition Sanchez had since youth.
To express her gratitude and hope for success in others, she's sharing her artwork with the community as the Redlands Art Association's current featured artist.
The exhibit, "A Grateful HeART," doubles as a fundraiser for the American Heart Association, as she hopes to help others in similar situations. A portion of proceeds from art pieces purchased will benefit the organization.
"It's finally been a success and I feel this is what I can do to give back for that," she said. "I'm not classically trained but I feel I can reach people through my art. It's why I keep doing what I'm doing."
Several pieces of Sanchez's work are on exhibit through Aug. 27. A reception and meet-and-greet is planned from 2:30 p.m. to 4:30 p.m. Sunday, Aug. 14 at the art association, 215 E. State Street in Redlands.
The works range in everything from originals, prints, jewelry to gift sets. All are available for purchase.
To view her artwork and learn more, visit www.artbyaubreysanchez.com.
To learn more about the Redlands Art Association, visit www.redlands-art.org