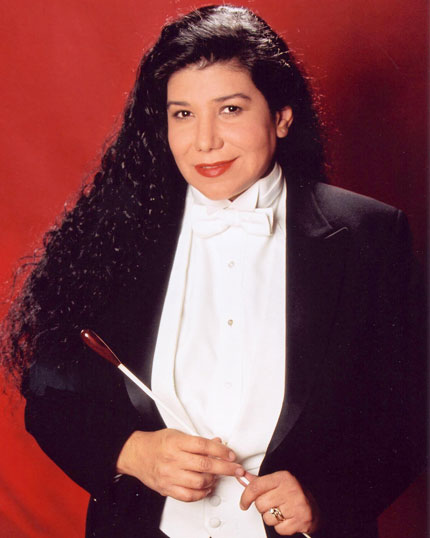 The San Bernardino Symphony Orchestra will return to the historic California Theatre of the Performing Arts May 5 for the fifth installment of their widely-praised 2017-18 concert season. The upcoming performance will present music and dance from North and South America in a "Cinco de Mayo Celebration" under the baton of Maestra Sonia Marie De Leon de Vega.
"We are thrilled to present the community with this very exciting finale to our 89th season," explained Symphony Board President Dean McVay. "This region's roots span geographic borders, and we felt a concert that celebrated this diversity would be both an appropriate and uplifting tribute."
The concert celebrates the regional blending of cultures that characterize the celebration of Cinco de Mayo in the U.S. The performance will open with two pieces by Aaron Copland: Selections from Rodeo and Ballet for Martha, also known as Appalachian Spring.  Appalachian Spring was originally written as a ballet, so the Symphony has partnered with the Inland Pacific Ballet to emphasize and accentuate the old west feel of this music.
The second half of the concert will take the audience from cowboys to caballeros. It will open with Astor Pantaleón Piazzolla's sultry Tangazo, followed by traditional folk tune Huapango by José Pablo Moncayo, then two pieces by Arturo Márquez: the elegant Danzon No. 2 and the up-tempo Conga del Fuego Nuevo.
"We believe this is a concert that will delight audiences of myriad musical tastes," said McVay.
The Symphony will perform this concert under the baton of guest conductor Sonia Marie De Leon de Vega who is the fifth candidate in the Orchestra's two-year formal conductor search. Described by the Beverly Hills Outlook as "a thunderbolt and a force to be reckoned with," Maestra de Vega was the first woman in history to receive a Vatican invitation to conduct a symphony orchestra at a Papal Mass. Hispanic Business Magazine voted her one of the 100 most influential Hispanics in the United States, and Univision, Mervyns of California and Target named her Outstanding Latina of the Year. Hispanic Business Magazine also voted her one of the 100 most influential Hispanics in the United States… twice, and they named her in their "80 Elite Women" list.
"We believe the Maestra is an inspirational fine arts leader whose unique message needs to be heard," added McVay.
The concert will begin at 7:30 p.m. at the historic California Theatre of the Performing Arts, 562 W. 4th Street, San Bernardino.  A pre-concert talk will be provided at 6:30 by Maestra de Vega and is free with your ticket.
Concert tickets, which begin at just $10 for students and active military, may be purchased by calling (909) 381-5388 or on-line at www.sanbernardinosymphony.org.  General admission tickets are also offered with limited availability at the theater box office prior to each event. Season tickets for the Symphony's 90thseason will also be on sale at the May 5 concert.
For those interested in starting concert weekend a little early, the San Bernardino Symphony Guild will be holding an evening of music and dance on May 4 at the Garcia Center for the Arts, 536 W. 11thStreet in San Bernardino which will feature a performance by Aztec dance troupe Xipe Totec.  Tickets are available by calling (909) 381-5388.