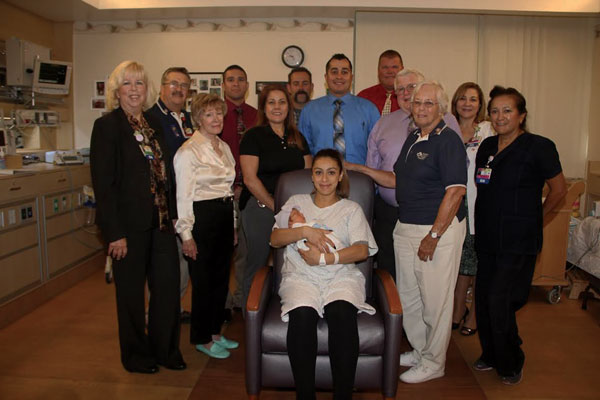 New moms at Redlands Community Hospital's Neonatal Intensive Care Unit now have a little extra comfort of home thanks to a donation from a volunteer and the Redlands Police Officers Foundation.
Longtime Auxiliary board member and volunteer, Diane Brown and her husband, Charlie, along with the Redlands police foundation, helped the hospital pay for the purchase of eight reclining chairs for NICU. The new recliners will aid infants who are born prematurely or have medical problems requiring special needs. The average length of stay for an infant in the NICU is about two weeks, according to a hospital news release.

"After working more than 20 years in pediatrics, I realized the importance of providing care to newborns in the NICU," said Diane, in the release. "It's my hope that our donation with make a difference in the lives of the babies and their families."
Reclining while mother and child are skin-to-skin provides several benefits, including improved temperature, respiratory and blood glucose stability,according to the hospital.
"The hospital is very grateful to the Redlands Police Officers Foundation for its continual support of our NICU," said Jan Opdyke, Redlands Community Hospital Foundation president, in a news release. "An item as simple as a recliner can bring comfort to what can be a stressful experience for parents and their infants."
RCH's NICU is a special nursery for babies born prematurely or have other medical problems, such as breathing difficulties, infections or conditions requiring special needs.
"The Redlands Police Officers Foundation is proud to go above and beyond to serve the community," said RPOF president Patrick Leivas, in the release. "It's our hope that the gift made to Redlands Community Hospital's tiniest patients and their parents will make a difference in their lives."
To learn more about Redlands Community Hospital, visit: www.redlandshospital.org or call 909-335-5500.
To make a donation to the Redlands Police Officers Foundation, send a check to P.O. Box 282, Redlands, CA 92373.