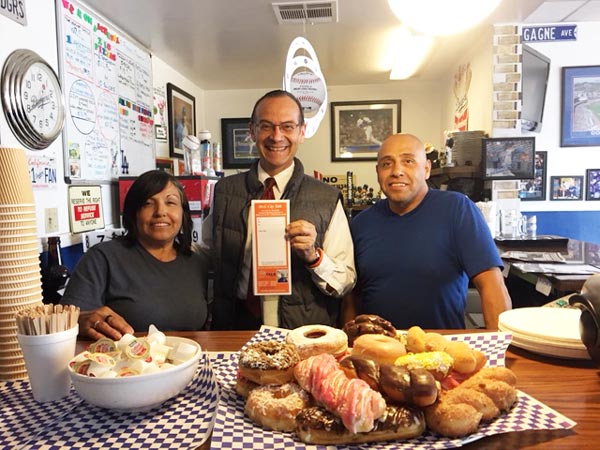 At the June monthly meeting of "City Talk w/Dr. G," Pizzadilly Restaurant in Colton, under the ownership of Raymond Dorado and Anthony Lewis, took a bold step by hosting the popular community outreach. Due to the unavailability of the traditional location, Council Member Dr. G needed to find a suitable location that was not only available, but physically set up to be able to efficiently meld the "City-Talk" meeting with the operation of the business.
"The owners of Pizzadilly really stepped up by providing the location, and donating refreshments to the meeting attendees," reported Dr. G. Even though Pizzadilly is open 7 days a week, their normal business hours start at 11 a.m., which posed a slight problem for the 9 a.m. "City Talk" meeting. "They offered to open at 8:30 a.m. for the 9 a.m. meeting," Dr. G added.
After the initial contact, owner Raymond Dorado and Council Member Dr. G discussed how this event would work to best serve the attendees, who are all residents of Colton. "These meetings are so important for community outreach," explained Dr. G. "The agenda included serious discussion about the city budget, the sunset of Measure D, and the potential move from seven to five council members."
The meeting was well attended (normally between 40-50 people), and proved to be quite successful in terms of the depth of discussion, and the positive atmosphere provided by Pizzadilly.
"They really helped us out, and at the same time, made an impressive 'connection' with the residents of the community," said Dr. G.
Raymond reflected, "If the opportunity presents itself once again…….we'll be ready!"
Raymond Dorado started working at Pizzadilly 36 years ago as a pizza maker and a counter sales person. "The owner at that time was Mr. Ken Stam," disclosed Raymond. "I worked there for a long time, became the Manager, and in 1998, bought the business along with my partner, Anthony Lewis."
Throughout this entire time, Raymond, Anthony, and the crew, Gloria (sister), Denise (niece), and Jose (employee) have had a successful pizza business, and have established themselves as a community landmark for an entire generation.
"Hosting this 'City Talk' event was a bold step in serving our community in a very positive way," said Dr. G. "They are to be congratulated and supported with a visit to their business."
By Dr. G (Luis Gonzalez)