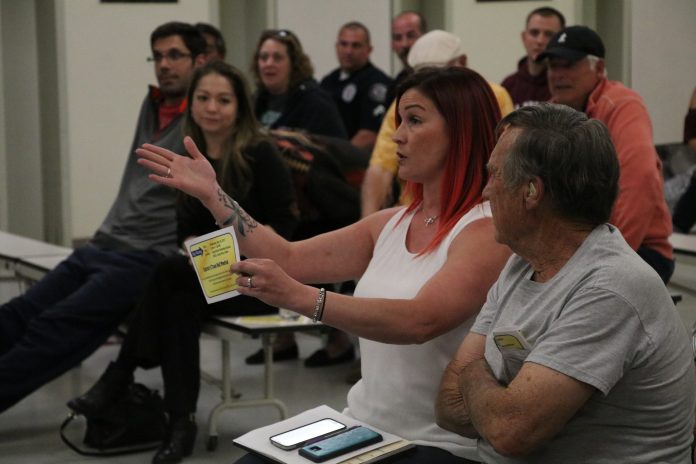 About 50 people attended a town hall meeting at Reche Canyon Elementary School last Wednesday to denounce development plans near the historic Hitchin Post and address concerns with traffic congestion.
Community members claim the City of Colton failed to give them ample notice of the meeting. They've since accused leaders of conducting "shady" business.
"They're trying to pass the buck to someone else," expressed Reche Canyon resident Melanie Wilson. "It seems like the city has their own agenda."
The Colton City Council decided on January 19 to allow LSA Associates Incorporated to conduct an independent study to examine potential environmental impacts a proposed gas station development may have on the Reche Canyon area.
Tensions rose during the town hall when residents began to express concerns over ongoing traffic congestion, reckless driving, blight, and crime.
Wilson and others in attendance vehemently expressed their disapproval of any new development–saying that the Hitchin Post, which is made up of a small market and gas station, is sufficient enough.
"Why create [development] when we're asking you as constituents to not follow [up] on this proposal," said Freddie Van Aken, whose home is located in front of the Hitchin Post on Reche Canyon Drive. "Please don't ruin one of Colton's beautiful rural areas. People moved here for the aesthetic, not to have the lights and downtown brought to them."
Development Services Director Mark Tomich once again confirmed that an official proposal has not been introduced.
"At this point in time, we don't know if the applicant is serious," Tomich said.
Don Bradley, who owns the property where the Hitchin Post is located, said he's tried to meet with city officials to discuss plans to revitalize the historic store front. He believes the city has deliberately try to undermine his efforts.
"It's a lot of effort for something that has not been filed," Bradley expressed. "I think it's unusual. I don't know if they're trying to inform you, but I don't like the feel of it."
Bradley also agrees that Reche Canyon cannot support another gas station. "We're trying to keep it zoned residential. This canyon cannot support two gas stations. I'm in the business and I can tell you that."
Mayor Richard De La Rosa confirmed that the project still has to undergo several stages before being considered by the City Council. During the meeting, De La Rosa denied pushing any development projects that were not beneficial to residents.
"I can assure you it has nothing to do with the support or denial of the project," said De La Rosa. "This is a transparent process they won't be left behind on."