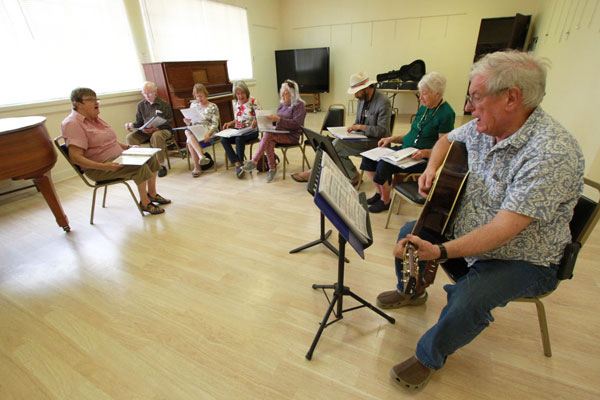 The Garcia Center for the Arts has been host to the San Bernardino Folk Singers for the past two years. The group meets almost every Thursday afternoon at 1:00 p.m. and is open to anyone who enjoys singing American folk songs; though many other genres of music are also explored.
Joyce Seeger (a distant relative of Pete Seeger the American Folk singer, by marriage), started the group three years ago at the Central City Lutheran Mission in San Bernardino and has been coordinating it ever since.
Throughout the years, several of its members have played their musical instruments to accompany the singers, still, the focus has been on the singers and their songs. Everyone loves to sing and at times the atmosphere is more like a campfire sing-a-long.
While most of the participants are retired, everybody is welcome. Everyone must start somewhere, and beginning singers are invited to participate.
John Wilson is from Riverside and has been playing his acoustic steel string guitar with the group for about a year-and-a-half.
On this particular occasion the selection of music included "Roll on Columbia," This Land is Your Land," "My Get Up and Go," "He's Got the Whole World in His Hands," "Oh Susanna," "Down in the Valley," "She'll Be Coming Around the Mountain," and a few others.
The San Bernardino Folk Singers have performed at nursing homes and have recently been invited to sing at the Inland Empire Media Group.
The Garcia Center for the Arts is located at 536 West 11th Street in San Bernardino on the corner of 11th and E Street. If you would like more information on the activities at the Garcia Center for the Arts, call 909-888-6400.
For information on the San Bernardino Folk Singers, call 909-882-1372.