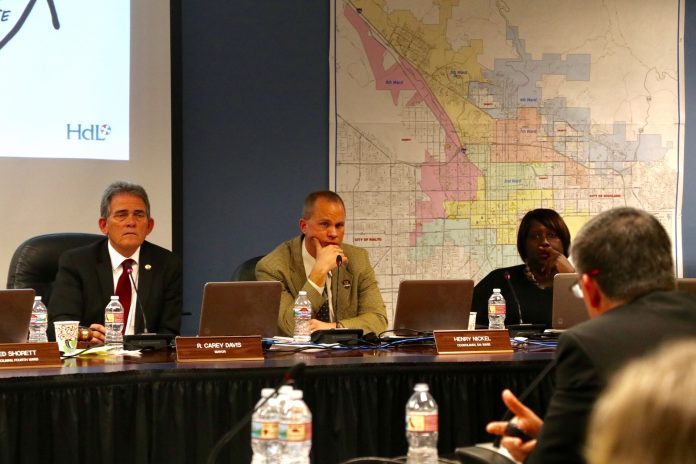 Despite spending several hours discussing the future of marijuana regulation, the San Bernardino City Council decided to reconvene on February 1–a day before the city's 45-day moratorium is set to expire–to decide on whether to extend a citywide ban to up to 10 months.
The Council and city staff spent nearly six hours going over possible options relating to cannabis regulation.

Whereas city leaders continued to affirm their careful approach in regulating marijuana, residents say they are annoyed by the city's inaction.
Among those frustrated with Monday's discussions was Damon Alexander, the chairman of a citizen's advisory committee that made several recommendations on cultivation and business regulation last year.
"We did all the heavy lifting and covered all the issues necessary," said Alexander. "And we weren't even taken into consideration. This has already been done. Why do we continue to reinvent the wheel and waste the time of residents and the cannabis industry?"
According to staff reports, the city is recommending extending the 45-day ban on all cannabis activities to "provide adequate time to consider comprehensive cannabis regulations."
If they do not succeed in extending the moratorium after February 2, the state will be allowed to regulate marijuana for San Bernardino.
One of the irritations in addressing regulation is getting a grasp of the facts, said Councilman Henry Nickel.
"As of now this is very much still an emotional issue," Nickel said. "We need to give the public some real facts, and that includes what the real costs of enforcement are and what the consequence of real enforcement will be in terms of their wallet and their pocket book."
Nickel also said the city needs to address "the elephant in the room" regarding potential federal intervention with regard to the Justice Department's decision to continue to prosecute for what they consider marijuana crimes. As of January 22, Assistant City Attorney Steven Graham said their office has not read any statements from the U.S. Ninth Circuit Court of Appeals over a change in enforcement priorities.
"If we do, we'll communicate that to the Council," he said.
Cannabis Consultant HdL is helping city leaders address issues pertaining to cannabis taxes, land permits, method of sale and consumption, and enforcement costs to name a few.
City leaders have confirmed they will host several town hall meetings to receive further input from the public on cannabis regulation.