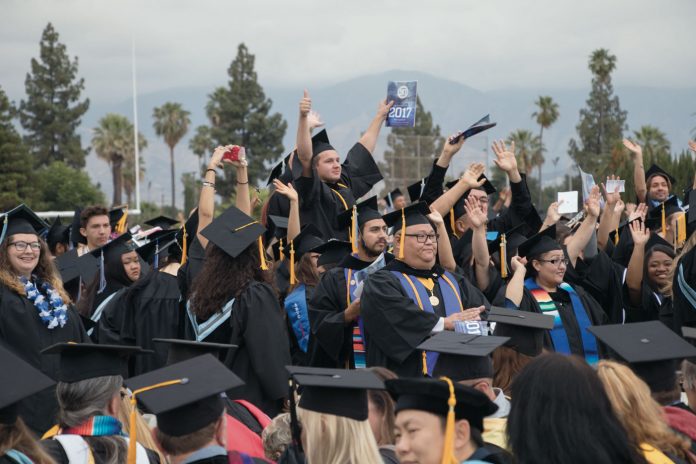 This year's San Bernardino Valley College graduating class is among the largest in its 90 year history, according to school officials.
Approximately 1,500 students received 2,056 degrees and certificates, Valley College spokesman Pavel Bratulin wrote in a press release. Of those students, 55 percent were the first in their family to graduate from college.
The Class of 2017 also had an exceptionally high university transfer rate and an impressive number of associate's degrees awarded to students–a 48 percent increase from 2016.
"I am deeply impressed by the tenacity and brilliance of our 2017 graduating class," said President Diana Rodriguez in a prepared statement. "Many have earned multiple degrees and certificates, making them prime candidates for the most in-demand and rewarding careers in the Southern California job market. We are extremely proud of their achievements."
The 90th annual commencement ceremony featured speakers that touched on the theme of perseverance and determination.
Student speaker Lucinda Crespin, who will be attending Cal State San Bernardino next fall on a full ride scholarship, said Valley College has provided her the courage to endure the trials and tribulations of the real world.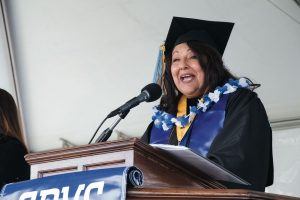 "We've been fortunate here," Crespin said. "We've had the benefit of some of the greatest professors and counselors who have helped us along the way."
Crespin told her fellow classmates to remain resilient in the midst of hard challenges and barriers.
"It doesn't matter where you are from and what you've been through," remarked Crespin. "What matters is where you are going from here."
Valley College alumnus–Time for Change Foundation Executive Director Kim Carter–assured graduates that they, "are the future of the Inland Empire."
"We need some bosses up in here to create some companies and some change," said Carter. "We know darkness, we know pain, but it's the light that draws us out into the light."