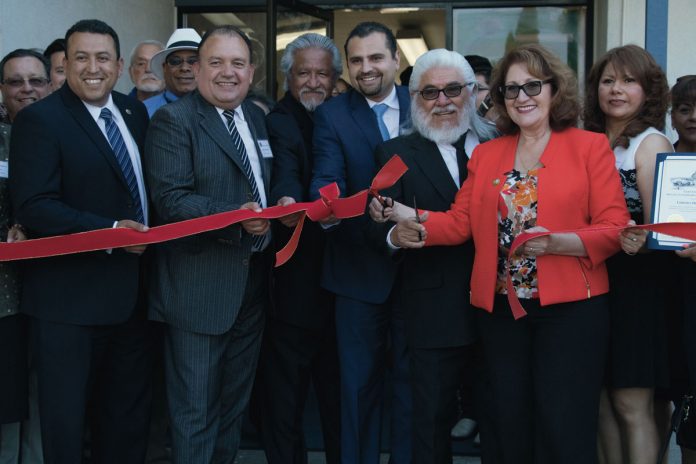 After 32 years, Libreria Del Pueblo finally has a place to call home.
The nonprofit organization celebrated the grand opening of their new office–located at 998 N. 'D' Street–on May 26.
Executive Director Danny Morales said the organization anticipated the eventual closure of the Carousel Mall, the organization's previous location, and found a building that he believes will suit the community best.
"Here we are, after 32 years, finally with our own place," Morales said. "We will continue providing the services we have for our community."
Libreria Del Pueblo's status as a service organization was established in 1985 by Father Patricio Guillen, Rosa Marta Zarate, and Gloria Zometa with the intent to serve the Latino community with immigration resources, English courses, and citizenship services.
Approximately 350 people that take advantage of the nonprofit's services become naturalized citizens every year, according to Libreria Del Pueblo Vice President Cesar Caballero.
"We have gained a positive reputation," Caballero said.
Alycia Enciso, one of Libreria's English and U.S. citizenship course instructors, said the organization has encouraged many of the region's Latinos to transition into American society.
"It's important to get people involved with their community, and they can do that more effectively by learning the language," explained Enciso. "They have to realize that this is their country too."
Residents who have benefitted from Libreria Del Pueblo's free services claim they have been treated "like family" by Morales and other organizational leaders.
"They've provided us with unconditional support," explained Esmeralda Bucio of Colton. "Whether it's with educational or emotional help, they've treated us like their own."
Lesvia Granados, who has lived in the U.S. for 17 years, argues Libreria Del Pueblo's staff are "their own kind" because they are willing to empathize with the struggles of Latino immigrants.
"They are flexible and understanding, which helps tremendously," said Granados. "There lessons have given us the strength to receive our citizenship without forgetting our roots."
Consuelo Godina of San Bernardino, who recently became a naturalized citizen, said the staff at Libreria Del Pueblo helped her create a better life for herself and her children.
"I would have struggled without their help," Godina said. "I'm happy to have benefitted from this blessing."