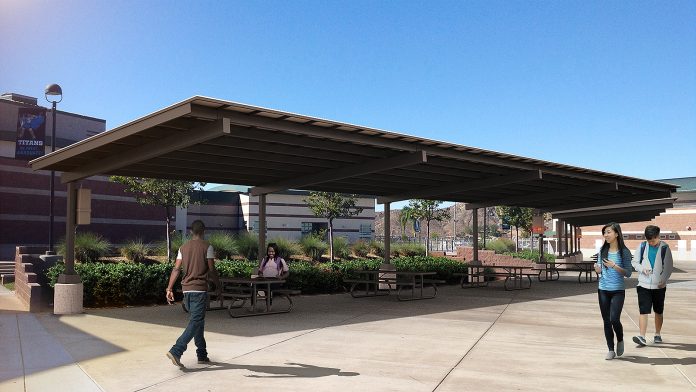 The first phase of a solar energy project intended to cut down on energy usage and costs begins this month.
The construction of solar parking garages and shade structures will take place at four campuses: Bloomington High School, Grand Terrace High School, Ruth O. Harris Middle School, and Joe Baca Middle School.
By the end of 2017, all of Colton Joint Unified School District's school sites will have Solar photovoltaic systems, according to Energy Manager Ernie Guillen.
The District agreed to a "Power Purchase Agreement," meaning they will only pay for power generated through the solar structures and not for construction costs. The Agreement was made with the SunPower Corporation, who will handle issues with vandalism and maintenance.
Guillen said the decision to negotiate a flat rate with SunPower helped the District avoid the problem of potential future rate increases by utility companies and to have a good understanding of their financial numbers.
"It's a common way to do it," Guillen said. "The rate we are going to pay for a kilowatt on Day 1 will be the same in Year 25. Some districts agree to an escalator [arrangement], where the rate can go up from 1 percent to 4 or 5 percent a year. We're not going to do that."
According to Guillen, the solar structures will cumulatively produce roughly 73 percent of the District's energy at 6.1 Megawatts annually. Officials predict the project will help save $35.8 million in utility bill savings in the next 25 years; money saved is expected to be redirected to classroom needs.
The District opted out of going with rooftop solar due to increase costs. "It wasn't feasible to do it," Guillen explained. "Re-roofing would be problematic."
Solar shade structures are more beneficial for teachers and students at campuses like Colton Middle School, Guillen described, because they, "will be able to sit and eat under them."
Guillen also explained the educational component to the solar projects. Students will be to learn engineering, electrical, and marketing skills through SunPower Corporation's partnership with the district.
"That was one of the questions we had for SunPower," said Guillen. "We asked, 'What would they be able to provide students and staff in regards to education.' We'll be taking advantage of that."