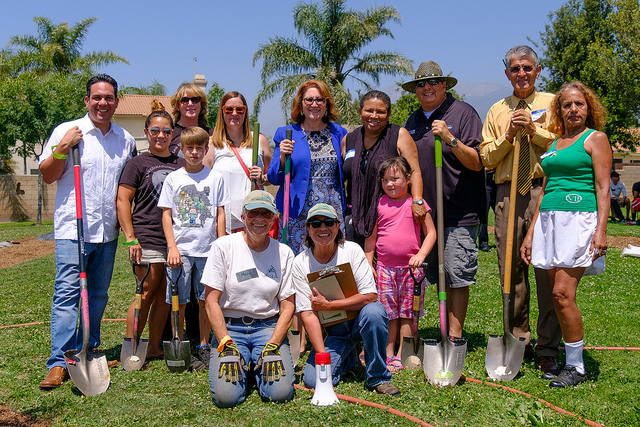 A large passageway will be constructed along Route 66 to honor veterans that fought in conflicts dating back to World War II.
The Route 66 Veterans Memorial Corridor Project will celebrate its kickoff on October 12 in downtown Barstow, as well as on October 13 at the Veterans of Foreign Wars 8737, 2018 Foothill Blvd in San Bernardino at 11:30 a.m. – 2 p.m., and in Fontana at 2 p.m. at the corner of Foothill and Maple Ave.
Nonprofit Incredible Edible Community Garden, with the help of several veterans organizations, will be planting approximately 3,200 trees across a 400 mile stretch. 
The trees planted along this corridor will serve as a living legacy honoring San Bernardino County's veterans. It will be the first of its kind in the nation spanning a long and iconic route, confirmed IECG Co-founder Eleanor Torres.
"This is a remarkable project," Torres said. "This will become a destination point for a lot of people."
Torres said her organization has been working on the project for about two years–receiving about a $1 million of financial support from the California Climate Investments Program. Individuals like Colton resident Paul Rasso and organizations such as the Rock-A-Billy Mafia Dolls, the Veterans of Foreign Wars, and many more are helping prepare for the "massive project."
"It's wonderful to see all this grassroots stuff happening," Torres remarked about the efforts of her partners. "That was our vision from the very beginning."
According to Torres, a permanent marker will be placed at each tree planted along Route 66 to honor veterans. The marker will include the veterans name, branch of service, years of service and the GPS coordinates for the location of the tree. The information will also be inscribed on a set of dog tags. One tag will be placed on the permanent marker, while the other will be given to the veteran's family.
Many veterans, specifically Vietnam War participants, didn't receive the warm-welcome of a ticker tape parade when returning back home, Torres explained. She hopes their "green leaf" parade will give these veterans the experience they deserve.
"It's meaning so much for these veterans," Torres said. "We're very touched by this."
In addition to honoring vets, Torres said planting trees along Route 66 will help clean up the air and encourage revitalization in disadvantaged communities.
"These are all wonderful benefits for the community," she said.
For more information about the Route 66 Veterans Memorial Corridor Project, contact Eleanor Torres at  (909) 499-9733 or visit their Facebook or website at www.iecgarden.org.
---
Join our newsletter for weekly wrap-ups of our community coverage, exclusive advertising opportunities and local business specials!