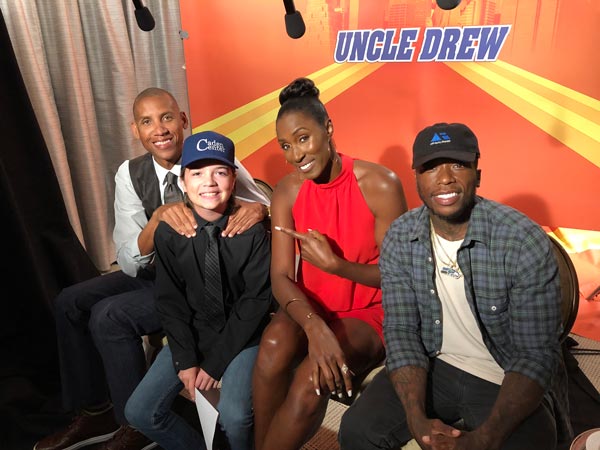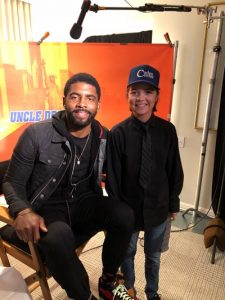 If you are looking for a fun movie to see this summer, "Uncle Drew" is the movie for you.  I recently attended an early screening of the film and was able to sit down with some of the cast.
Right from the start, the movie was hilarious, featuring many basketball stars playing themselves, giving their thoughts on the great street ball legend, Uncle Drew, documentary style. NBA fans will love the cameos that kick the movie off.
The movie is centered around Dax, a street ball coach played by Lil Rel Howery, and his formation of a new team after his old one leaves him for 7x champion and long time rival, Mookie, played by the hilarious Nick Kroll.  Look out for NBA player, Aaron Gordon, as the current street ball superstar.
Dax looks for a new team on the streets until finally he finds an old man completely demolish a "Youngblood" on the court.  Dax discovers this old man is the legend, Uncle Drew, played by NBA superstar Kyrie Irving. Uncle Drew is reluctant to get involved, but finally agrees to help Dax form a team.  However, Dax is the coach but Uncle Drew insists he has to select the roster. Uncle Drew selects his old team, Preacher (Chris Webber), Boots (Nate Robinson), Big Fella (Shaquille O Neal), and Lights (Reggie Miller). They also end up with Betty Lou (Lisa Leslie) and Maya (Erica Ash) along for the ride.
Finally, the big tournament starts but no spoilers here- a lot happens between injuries and old friendships and even old rivalries which all made this movie amazing and really represented today's basketball culture very well.  The film also touches on family, honesty, forgiveness and overcoming fears.
Pro tips:
Don't refill your popcorn during the club scene.  You don't want to miss what happens, as this was a highlight of the film.
Don't worry if you don't see much of the amazing Lisa Leslie at the start of the film, she will surprise you later.
All the scenes with Kyrie Irving playing are great, but he really lets his skills loose at the end.
Stay for the credits for bloopers and behind the scenes footage!
After screening the film, I was able to sit down with cast members Kyrie Irving, Reggie Miller, Lisa Leslie, Nate Robinson, Little Rel Howery and Nick Kroll. Here are a few fun takeaways from the interviews:
Kyrie Irving's favorite movie is Rent.  Will we see a Kyrie musical in the future?  He does have a song on the "Uncle Drew" soundtrack.  Is there anything this guy can't do?
It took over 2 hours for the cast to be transformed in their "older" makeup.
Who would win one-on-one between on screen rivals, Lil Rel and Nick Kroll?  They haven't played yet, but plan to in the future.
Nate Robinson's favorite memory on set?  Dunking on Shaq!
Lisa Leslie came to her audition made over as an older version of herself, how she thought Betty Lou would appear.
Reggie Miller was already a fan of the "Uncle Drew" commercials and videos and jumped at the chance to participate.
To take a look at the full interviews and see the cast's awesome chemistry, visit the CadenCenter YouTube page: http://www.youtube.com/c/CadenCenter 
Overall, "Uncle Drew" is a fun movie for all ages (13 and up of course).  You don't have to be a basketball expert to enjoy it, but if you are, there are a lot of fun jokes built into the script you will appreciate.
"Uncle Drew" is rated PG-13 and hits theaters June 29th!
I give this film 4.5 out of 5 stars!