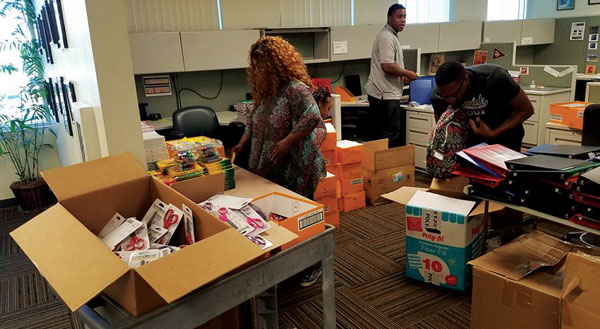 The first day of school is right around the corner and Young Visionaries Youth Leadership Academy will be helping children in Rialto start the school year fully prepared.
The local nonprofit will host its 10th annual Back to School Backpack Giveaway Saturday from 11 a.m. to 3 p.m. at Rialto Middle School, 1262 W Rialto Ave., supplying school-aged children with the back-to-school necessities.
As part of the event, hundreds of backpacks filled with pencils, paper, folders and necessary school supplies will be provided free to school-aged children.
Last year's giveaway supplied hundreds of students with back to school essentials and this year, more than 500 are expected to show, said Young Visionaries founder and CEO Terrance Stone.
In addition to school supplies, the organization will offer giveaways, door prizes and the opportunity for children to take home a new bicycle. Several vendor booths will also be on hand providing information on community resources as well as offering giveaways.
Backpacks and school supplies will be handed out on a first come, first served basis while supplies last.
The event is made possible through a collaboration between Young Visionaries, the San Bernardino County Superintendent of Schools along with other community agencies in partnership with Rialto Mayor Deborah Robertson.
To learn more call 909-723-1695.