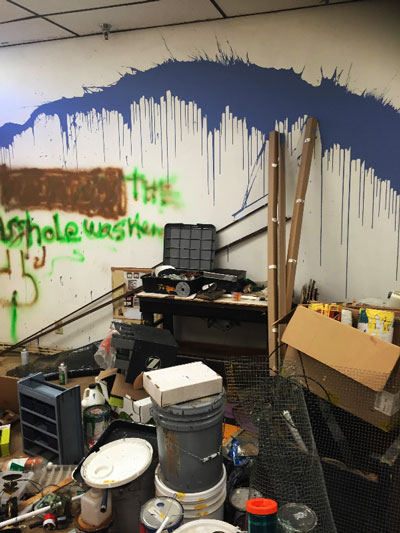 The Center for Individual Development (CID) suffered a financial blow when its Haunted House venue on Little Mountain Drive in San Bernardino was vandalized over the weekend causing an estimated $10,000 in damages. The Haunted House is the organization's principal fundraiser of the year. It was also vandalized in November.
"It's very frustrating because our major fundraising venue is being vandalized and costing us a lot of money," said Christopher McClain, CID recreation specialist and board member. "We provide the Haunted House so that families in San Bernardino have a safe place to come and have fun."
There was a rumor that the Haunted House may be discontinued, but McClain said that for now there are no plans to put an end to it.
According to McClain reports of a broken window occurred last Thursday, July 21, with no internal damage. But when he conducted a walk-through this Monday, the damage was exorbitant. Paint was splattered on wall, feces and urine on the carpet, drugs and pornographic material were strewn about, nine more windows were shattered, equipment destroyed and tools stolen.
The carpet, couch, office equipment, tools and supplies will need to be replaced, as well as repainting the walls.
"Thankfully the building manager has offered to replace the windows for us, so that's one less thing we have to take care of," McClain said.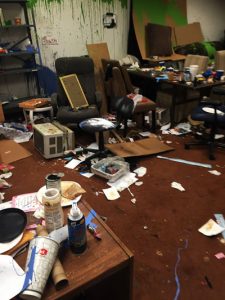 The community is invited to a scheduled clean-up day on Sunday at 9 a.m. at 2700 Little Mountain Drive. The San Bernardino Fire Department has already confirmed its participation, and local restaurants have volunteered to provide food to participants. Target donated a slew of cleaning supplies.
The CID, founded in 1980, is a regional recreation center that serves people with disabilities – physical, developmental and mental. It is a joint powers authority made up of the City of San Bernardino Parks, Recreation & Community Services Department, the County of San Bernardino Behavioral Health Department and the San Bernardino City Unified School District.
For more information, call the CID at (909) 384-5426.