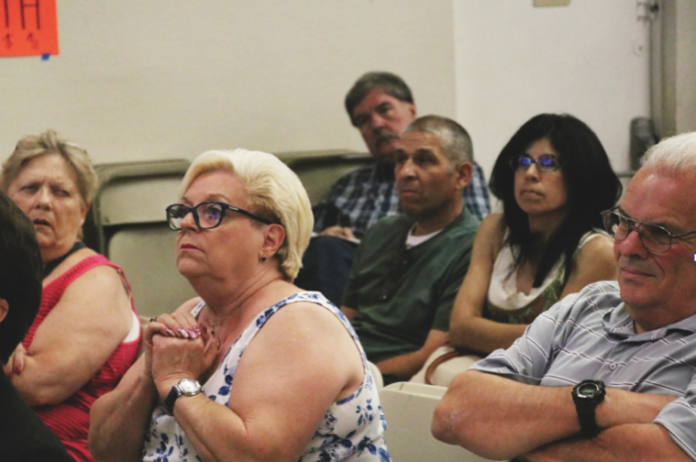 Several residents in Bloomington are claiming growing warehouse development is bringing forth more pollution and deterring their quality of life.
About 80 residents attended a community town hall meeting at the St. Charles Borromeo Parish in Bloomington on June 22 to express concerns over a warehouse that will be constructed near Cedar and Jurupa Avenues.

Community organizers with the Center for Community Action and Environmental Justice, who helped put together the town hall, argue that County officials are endangering the lives of Bloomington residents by constructing structures that, "puts economic growth over the lives of working class residents."
"We should not be putting industry next to schools," expressed CCAEJ organizer Ericka Flores. "We must come together and demonstrate that we are not OK with this."
Approved by the San Bernardino County Board of Supervisors on May 2, the 680,000 square foot warehouse brings the promise of generating revenue to improve local infrastructure and contribute to local and regional economic growth, according to a report prepared by Land Use Services Department Director Tom Hudson.
Supervisor Josie Gonzales told CCAEJ organizers and Bloomington residents during the May 2 meeting that the warehouse project took into consideration concerns from the community. She told environmental groups that they should take into account illegal trucking, which she believes is a greater threat to the area's air quality.
"Nothing was done in a vacuum," she said. "We have been very transparent and open to communication. Before we identify warehousing or industrial land use as the culprit, we need to recognize what is going on in our own backyard."
Bloomington Municipal Advisory Council Gary Grossich is supportive of the development. He argues continuing logistics development will help reduce blight and crime in the area.
"When something like [a warehouse] is approved, the County makes sure there's an interface," said Grossich. "These projects are mitigated. We're not going to put hazardous, toxic material in our neighborhoods."
CCAEJ Programs Manager Esther Portillo disagrees. The proliferation of warehouses have been devastating to places like Mira Loma, which she believes Bloomington could turn into if no proper oversight exists.
"How has this economic growth [gained from warehousing] helped these communities," she said. "
Resident Juan Carrera is afraid the new warehousing development may bring down his property value.
"This is going to affect me in an enormous way," Carrera said. "I might have to leave now. I can't be living like this."