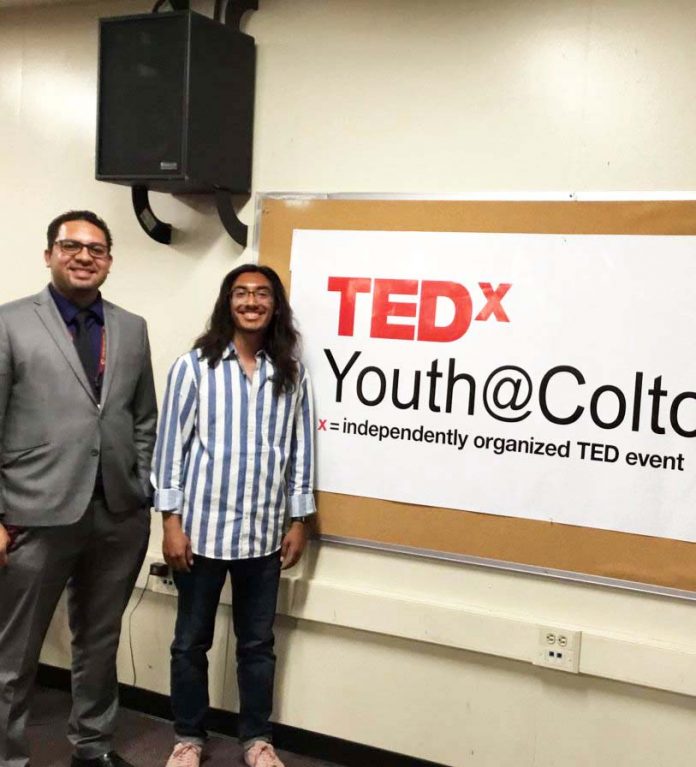 Congratulations to Colton High School Junior Ernest Mateo Cisneros and Assistant Principal Jorge Alvarez, who have been named Bezos Scholars! This year, the applicant pool was one of the most competitive in the program's history. Scholars are selected based on demonstrated leadership abilities, willingness to embrace challenges, and the desire to create positive change in their communities. The Bezos Scholars Program inspires and challenges young people to address issues they are passionate about in their communities. 
Ernest and Jorge, assistant principal at Colton High School, will spend a week at the Aspen Ideas Festival in June, where they will meet and engage with some of the world's most highly acclaimed scientists, journalists, artists and global leaders. They will then develop a community change project that combines their passion with meeting a defined community need.

For Ernest, that need is mental health advocacy and increasing access to mental health services for youth, something he has seen as a need in our community.
Ernest has already been working on this issue throughout his high school career. His passion led him to become a member of his school district's Health and Wellness Center Advisory Committee, which is establishing the first on-site mental wellness center at Colton High School to bring mental health services to students and staff. Ernest believes access is just as important as awareness, and through his role as President of his school's TED Ed Club, he recently organized the school's first ever TEDx conference, which was themed around mental wellness in schools.  
In addition to his role as assistant principal, Jorge currently serves as the advisor of the TED Ed Club at his school. In 2017, he was selected as 1 of 33 TED Ed Innovative Educators from around the world. As a longtime educator, Jorge is a strong believer in the power of the human connection and loves to mentor students as they discover their purpose in life. He immigrated to the United States from El Salvador when he was a sophomore in high school, going on to graduate with honors from Rialto High School and become a History and English as a Second Language teacher. He holds a bachelor's in Social Science and a dual master's in Teaching and Educational Leadership from Azusa Pacific University. 
"As part of the Bezos Scholar Program, I hope to engage in conversations about students' mental health and well-being and champion those ideas in my community," Jorge said about the opportunity to support young leaders. "The greatest reward for me would be for a student to say I had an impact on them."
The Bezos Family Foundation launched the Scholars program in 2005 to provide young people a platform to design solutions to some of the most pressing issues facing their communities. The program begins with an all-expenses paid trip to the Aspen Ideas Festival. The week is filled with leadership training, panel discussions, and exclusive conversations with many of the world's most acclaimed scientists, journalists, artists, and global thought leaders. This experience sets the stage for the challenge ahead: launching sustainable projects, known as Local Ideas Festivals (LIFs), to transform their communities. 
The topics and themes of LIFs are as diverse as the Scholars themselves and are designed to align Scholars' passions with an existing community need. Many address inequities in education, advocating for the rights of minorities and underrepresented communities, and the need to create space for civil discourse. Since the program's inception, more than 50,000 attendees have participated in these change projects.