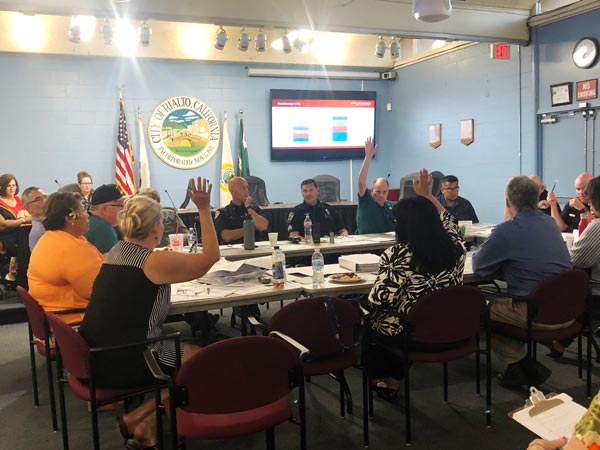 On Monday, June 25, city of Rialto's Budget Advisory Committee held a meeting at council chambers to discuss the 2018-2019 budget. The meeting lasted 4 hours; the committee barely made it through half of the agenda and had to adjourn the meeting, resuming on Thursday, June 28 until 10:47 p.m.
"I'd like to see us place a priority on police, fire, and street maintenance this next year," said Joe Rayden, budget advisory committee member. It was a unanimous decision by all 14 committee members to employ a higher budget to those three areas in the next calendar year.

"I'm afraid to live in this city without police and fire. I don't see how not to prioritize police and fire; it would not hurt the city in any way," said Budget Advisory Committee Member Lupe Camacho.
During the second session of the budget advisory committee meeting on June 28, much contention arose when discussing a raise for police department employees and the possibility of spending millions on Frisbee Park.
"The items that brought the most discussion on Thursday was when the committee accepted the motion to give Rialto Police an 8 percent raise and they are also getting that 8 percent back from the last two years," said David Phillips, budget advisory committee member.
Phillips also stated that with the acceptance of the motion to increase Rialto police officer pay, a regular police officer at the top of the pay scale will be receiving a $12,000 monthly check and also an additional $6,000 per year added to their regular pay.
Another item that wasn't easy for the committee to come to a conclusion on was whether or not to spend more money on the city's public parks.
"How to deal with park maintenance has been a tough point amongst the committee. There are people who have kids like me, who utilize the parks, but we're not sure how to overcome the fact that our city is $150 million dollars in the hole. Do we build out a park? Or take care of this mess of a debt?" continued Phillips.
While the committee is looking at ways to deal with the city's looming debt, during Monday night's meeting they were able to find $18 million to fund a brand new 22-acre park – Frisbee Park.
Another highly controversial item the committee voted on was the sale, cultivation, manufacture and distribution of marijuana.
"Marijuana is still illegal under federal law. I am not going to vote for something that is illegal under federal law. Period. It will do no good for our city," Rayden said.
In a unanimous vote, the 14 present committee members voted to maintain its opposition to the sale, cultivation, manufacture and distribution of marijuana in Rialto City limits.
"It's important for our city not to sell marijuana due to the group of people that it usually involves, it brings an undesirable element to the city. That's why we don't have any bars, it's because the issues that come when people are drinking. With my experience working in law enforcement, these types of locations become a place where we know there are drugs and cash – those locations become places (subject to) robbery," said Phillips.
Another item that passed at the meeting, in a 9-2 vote, was to include a special tax upon the owners of new residential units that offsets the cost of public services, ideally producing a neutral fiscal impact to the city.
According to the Budget Advisory Committee Agenda Report, the special tax is approved by the developer and then passed along to the homebuyer. The homebuyer considers this tax in the purchase decision, and the maximum combined property tax and special tax rate is 2 percent of the purchase price.