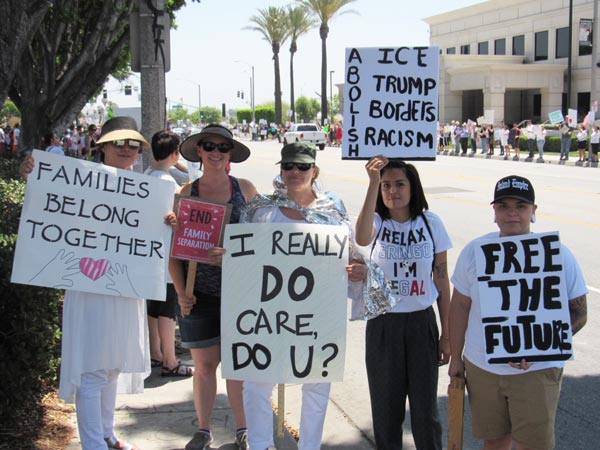 Over 600 residents from across the Inland Empire rallied together at the Keep Families Together protest in front of the U.S. Immigration and Customs Enforcement (ICE) facility in San Bernardino on Saturday, June 30.
This was one of over 400 nationwide protests held across the country to express opposition to President Trump's immigration policies that separate children from their parents and family at U.S. borders, and denying security to Deferred Action for Childhood Arrivals (DACA) recipients, while using ICE to harass and intimidate immigrants.
"We need a comprehensive immigration reform, we haven't had a substantial bill in years. Washington continues to politicize human life and dignity," said Emilie Brill, Loma Linda resident.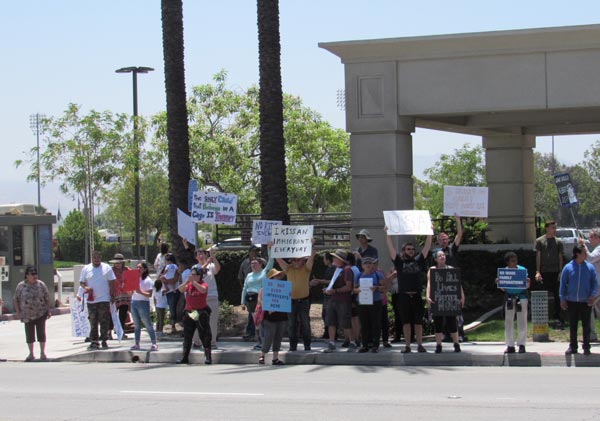 In between vehicles honking in support as they drove past protesters, the crowd chanted, "Free the kids."
"Children in detention need to be reunited with their family. Everyday these children are being traumatized the most. There's so much scientific evidence that trauma leads to all sorts of problems in adulthood, which leads to substance abuse and an unproductive member of society," concluded Brill.
The multi-ethnic crowd wore the color white to represent unity.
"Guatemala, Honduras, El Salvador and Mexico have the most violent death rates. Why are we not talking about this? I challenge journalists to cover more of these stories," said Banning resident Sarah Kelsey.
Many protesters held homemade signs and t-shirts that slammed and questioned the President's character and ethics.
Protesters held signs that read, "The only child that belongs in a cage is Trump," "Free the future," and "Say no to bigotry."
"It's empowering to see this many people out here today. It gives people hope. It's inhumane, it's cruel to separate children from their parents. There has to be a better way to mitigate this," said an emotional Eva Chetto, Inland Empire resident.
A few of the protesters' signs read, "The only child that belongs in a cage is Trump," "Free the future" and "Say no to bigotry."
"We're constantly being told everything is fake news by Trump. But then you see this huge amount of people come out to support this issue; that is not fake," Kelsey concluded.
Also present at the protest was the Inland Coalition for Immigrant Justice. The organization had a booth set up sharing how to support immigrants imprisoned in Victorville Federal Prison and GEO Adelanto Detention Center.
"It's about keeping the local community members up to date on this issue that has been going on for the last decade. We feel there have been huge human rights violations that have been made," said an Inland Coalition for Immigrant Justice volunteer. "The federal prison is expecting up to 1,000 new detainees. There's already so many imprisoned in our local for-profit detention centers who have not had a hearing in over two years."
The successful political protest began at 11 a.m. and ended at about 4 p.m.
Even the Southern California heat wasn't enough to tire out the protestors, three hours into the protest they were loudly chanting,"Immigrants are welcome here."
"I'm opposed to separating a unit that needs to stay together on a biological level. When I seen photos of children in a cage online I was outraged," said Sarah Johnson, San Bernardino County resident.