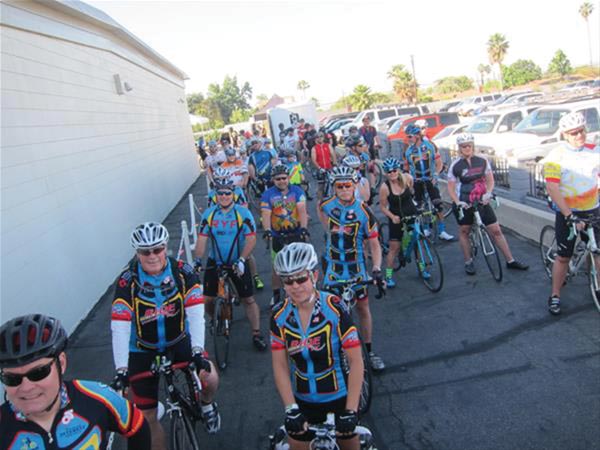 Stretch those legs, there's a non-competitive cycling ride Saturday in Redlands. The Plain Wrap Ride, a charity event supporting cycling in the Inland Empire, is taking place from 7:30 a.m. to noon at 245 Terracina Blvd. in Redlands.
"This is a great event our community partners participate in to encourage outdoor activity among families," said Dr. Steven Wilson, physician at Redlands Community Hospital and founder of Ride Yourself Fit, Inc., in a news release.

"Cycling is a great way to improve your overall health while developing an exercise routine that the whole family can enjoy."
Interested riders can register for one of three route options that include a 15, 39 or 62-mile ride.
The 62-mile ride begins at 7:30 a.m., the 3- mile ride starts at 8:30 a.m. and the 15-mile ride at 9:30 a.m. Rest stops will be provided at the 54 and 36 mile routes. All rides will have vehicle support, a turn map and arrow routes to guide participants throughout the course.
Following the ride, Plain Wrap Ride jerseys will be available for purchase and participants can enjoy foods from the Papas Artisanal Food Truck and a vendor village.
Single registration is $25 and tandem registration is $35 by June 15.
Same day registration cost is $35 for a single rider and $45 for a tandem.
Registration fees will benefit local activities and groups supporting cycling in the Inland Empire including the Kevin Unck Foundation providing relief for injured cyclists, Cycling Connection's Christmas Bike Give-Away, One More Move – Bikes for Kids, Ride Yourself Fit's Annual Children's Health & Safety Expo, the Inland Empire Biking Alliance, and Santiago Cycling's Operation Hope.
To register online, visit www.imathlete.com/events/PlainWrapRide. Registration can also be mailed to Ride Yourself Fit 1201 Brookside Ave., Suite 100, Redlands, CA 92373.
To learn more about the event, call Greg Armstrong at 909-946-6921.