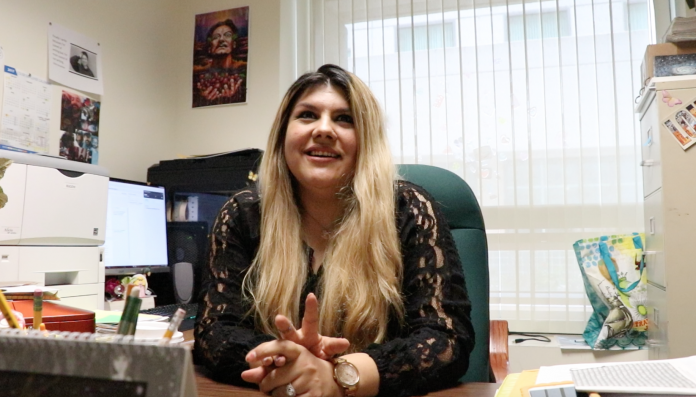 Cal State San Bernardino Communication Studies Professor Liliana Conlisk Gallegos believes in the power of agency. The third year professor is helping first generation students find their voice through journalism and social activism.
She's created courses–Latin@s in Media and Culture and Decolonizing Journalism–to educate students about the negative portrayal of Latinos in mass media and encourage pupils to, "break the barriers of traditional media."
"The students need to see themselves in media," expressed Gallegos. "They don't see themselves represented in Hollywood or mass media. And if they do see themselves, it's always negatively."
Gallegos, who holds a Masters and Ph.D in Hispanic languages and literatures and a degree in rhetoric, has created a new school of journalism–rainbow journalism–that utilizes broadcast, print, radio, and multimedia journalism, along with public relations, to depict marginalized groups in a different light.
It allows for the storytelling of issues or particular events to be told from multiple perspectives, preferably through a first person, personal point of view.
"We're free. No one tells us what we can do or what we can say," Gallegos said. "There are leaders that guide, but ultimately it's circular. The responsibility is divided among everyone equally."
Students gather in groups and figure out their interests and strengths. From there they educate each other on how to produce video or to write a news story, Gallegos explained.
"Students don't think of it as working or studying," she said. "They can do something, they have power. It's like, 'Let me use my agency to take over my own education and learn journalism to propose something new.'"
Gallegos and her students presented their 'rainbow journalism' conglomerate at a conference in Chicago in May. The 'Coyote Pack' has also held and covered an art exhibit at the Garcia Center for the Arts earlier this year to raise money for undocumented students.
CSUSB graduate student Luis Esparza, who was a member of the Coyote Pack, said he was able to find a voice through Gallegos' teachings.
"[Rainbow journalism] serves as an outlet for marginalized voices to come together, share their expertises, and become a force to be reckoned with," said Esparza.
Gallegos believes the nontraditional students she serves–majority Hispanic and women–are empowered through the pedagogy of rainbow journalism.
"I want to break barriers by teaching education this way."
In honor of Hispanic Heritage Month, IECN is featuring a notable group or individual each week
---
Join our newsletter for weekly wrap-ups of our community coverage, exclusive advertising opportunities and local business specials!