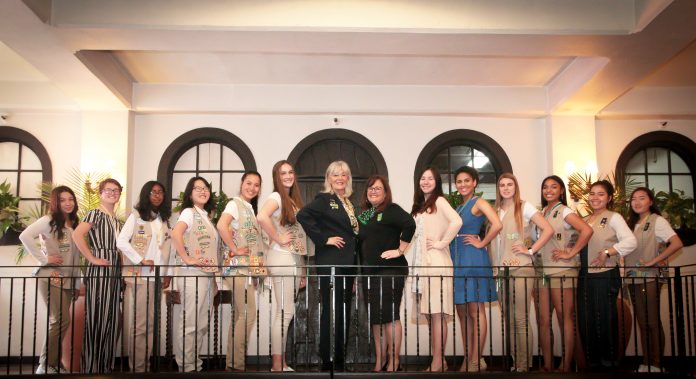 Girl Scouts of San Gorgonio honored 17 Inland Empire/Desert Girl Scouts with their Gold Award, the highest award a Girl Scout can earn, at a ceremony and luncheon at the historic Mission Inn in Riverside, California.
The prestigious Girl Scout Gold Award represents the highest achievement in Girl Scouting and challenges girls ages 14–17 to initiate meaningful, sustainable change locally, nationally, and/or globally through unique Take Action projects of their own creation. According to the Girl Scout Research Institute's (GSRI) report, The Power of the Girl Scout Gold Award: Excellence in Leadership and Life, Girl Scout Gold Award recipients receive greater lifetime benefits than their peers with regard to positive sense of self, life satisfaction, leadership, life success, community service, and civic engagement thanks to their experience in Girl Scouting, including earning their Gold Award.
When compared to non-Girl Scout alumnae, Gold Award recipients soar when it comes to seeing themselves as a leader, providing service to others through volunteerism, and positive attitudes about themselves and the lives they lead. More generally, over ninety percent of Girl Scouts not only attributed their success in life to Girl Scouts, but they also said they could not have had access to the same experiences anywhere else Girls who pursue their Gold Award aspire to transform an idea and vision for change into an actionable plan with measurable, sustainable, and far-reaching results. In contrast to similar awards from other organizations, Gold Award projects must be sustainable, meaning that the girls take steps to ensure that others will continue with their projects into the future.
"Earning the Girl Scout Gold Award is truly a remarkable achievement, and these young women exemplify
leadership in all its form," said Cynthia H. Breunig, President & CEO of Girl Scouts of San Gorgonio. "As a result of their imaginative, solution-driven, sustainable community service projects, this year's Gold Award Girl Scouts did not just wish to make the world a better place; they MADE our world a better place."
By earning the Girl Scout Gold Award, each girl has become a community leader. Their accomplishments reflect leadership and citizenship skills that set them apart. A representative sampling of projects from this year's recipients illustrates the diversity and depth of this work:
Hailey H.
Noting that youth voter turnout is the lowest of any age bracket in any election, Hailey was determined to inspire her peers to become better informed and more involved in the political process of our country. Holding voter registration drives at her school, she educated senior students about political parties, the voting process and how to register for elections. The established simulated government club will continue holding annual registration drives during the school's college and career kick-off days as well as during club rush week. Way to increase the number of empowered citizens!
Samantha R.
Noticing how difficult it was for a teacher to de-escalate a child who was heading for a full meltdown led Samantha to research methods to address this issue. Finding that the country is switching to a "personalized learning" environment, she developed "peace corner" kits for classrooms that have students with a history of behavioral challenges associated with A.D.D, A.D.H.., anger management and hyperactivity among others. These kits allow the students to refocus their energy, calm down and assists them in developing self-coping skills to overcome their outbursts. For most of these students the time spent in the peace corner is becoming shorter and shorter and they are able to join the other students quicker. The teachers are so pleased that the PTA at the first school will be adding more kits to additional classrooms in the coming year. Word has spread and the original elementary PTA is working with a second school's PTA to start a "peace corner" program at their school.
Amber A.     
Assisting one of the smallest, least supported schools in the small Rim of the World school district, Amber renovated Charles Hoffman Elementary's Greenhouse. She repurposed an old trash shoot into a large storage unit, created a personally designed water recycling unit and compost system, and installed canopies, planter boxes, soil and extra supplies. The greenhouse provides opportunities for the students to interact with the environment while learning healthy renewable practices that will improve the environment and possibly lead to future career choices. The water recycling unit removes excess runoff that was a long standing hazard that used to freeze and cause slip and falls.
Nicole C.
Noticing the large dog population in San Bernardino, and that for the most part the care of these dogs was poor, Nicole wanted to provide a way for families to improve the conditions for these animals and the care they received from their owners. With a large Spanish language only demographic, the information provided by the shelter was not very useful. she developed a bilingual storybook with photos depicting the tale of gizmo and his dog friends called "gizmo's guide for happy pet parents." Two copies were published and are on display in the lobby of the San Bernardino humane society and there are black and white printable bilingual coloring books of gizmo's story that children can take home. Books were also donated to the educational outreach of the humane society for their summer camps and elementary school tour programs. Both agencies have agreed to make the coloring books a permanent part of their children's outreach program.
Nesha S.
Nesha's gold award project addresses the global issue of dairies discharging raw sewage directly into the ground. The bovine sewage leads to nitrate contamination which has been linked to chronic illnesses, cancers and 'blue baby syndrome'. Developing a low cost, portable filtration system utilizing recycled shredded cotton shirts and aeration, Nesha was able to significantly reduce the amount of nitrates leaching into the groundwater. Her low cost means of converting nitrate leaching into a more harmless substance, nitrogen gas, have been confirmed by a professional lab and initial results are being prepared for national release. Earning the Gold Award is just one of the amazing things girls can do as part of Girl Scouts. To join Girl Scouts or learn more about volunteering, please visit www.gssgc.org/join.