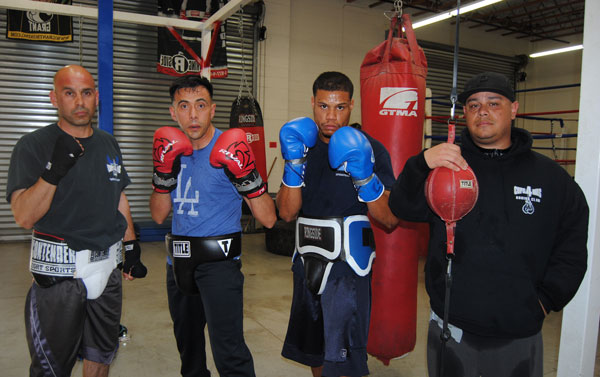 The Cops4Kids Gym at 1589 Bordwell Avenue, Unit C, in Colton is bustling these days.  The sounds of sheer grit and determination echo off the walls as each of Carlos Palomino's boxers work hard for the next Battle of the Badge tournament to be held on May 19, 2018 at the Agua Caliente Resort and Casino in Rancho Mirage.
As he talks about the fighters, Palomino keeps his eyes on the youngsters in the gym, walking around each one giving pointers, reminding them of basics.  Although it is clear he is proud of the boxers on the Agua Caliente ticket, his heart seems to belong to the younger boys and girls that have shown up to work out just as hard as the adults.

Cops4Kids is a boxing program in Colton that pairs adults who work in law enforcement with kids who need some good old-fashioned mentoring coupled with the discipline and rigor of boxing training.  Their motto is "Let's Reach Them Before We Have to Rescue Them."
Officers that have stepped up to the plate for the upcoming charitable Battle of the Badges match are Sterling Anthony Parks (US Navy), Carlos "Junior" Palomino (Chino Institution for Men), Marco Aguirre (California Rehabilitation Center/Norco), Jasper Sandoval (Chino Institution for Women) and Denise Guerrero (San Bernardino Police Department).
Hoping that some of the local police officers will soon come to train with the kids, Palomino stressed that the program is designed to reach out to the local community through the student boxers working side by side with local law enforcement.  The group meets Monday through Thursday from 5 p.m. to 7 p.m.
The boxing program has provided key support to programs such as Relay for Life and Christmas gifts for underprivileged children each year.  The Battle of the Badge tournaments raise funds to help keep Cops4Kids funded for the costs of the program during the year.
Correctional Officer Marco Aguirre will be fighting in the light-middle weight class for the Battle of the Badges meet.  He has been working with Cops4Kids for approximately a year now.
"I boxed in high school for about a year," said Aguirre, "and I always wanted to compete, so here I am.  I like to encourage the kids, I keep telling them to do good in school and have a hard work ethic.  I always tell them, 'Try your best, no matter what.'"
For Carlos Palomino Jr. who also works as a Correctional Officer, the Battle of the Badges is all about working with the younger boxers.
"I work in a very negative environment, where law enforcement is seen in a negative light.  I like to see the kids who go through this program and be a part of the things they accomplish, to really see how they grow and turn out to be adults that also give back to their community."
Sterling Anthony Parks added, " I boxed a little when I was 16.  I've been training here for about 8 months now.  I like working with the kids, it seems to motivate me to train harder.  I love sharing the discipline and the mental aspect of the program.  This is the hardest sport I've ever participated in."
If you would like tickets to the upcoming Battle of the Badges on May 19, or to find out how to enroll your student in the Cops4Kids program, or you are (or know) someone in law enforcement who would like to join in this opportunity to shape the lives of the next generation, please contact Carlos Palomino at 909-644-0373 or on his Facebook page