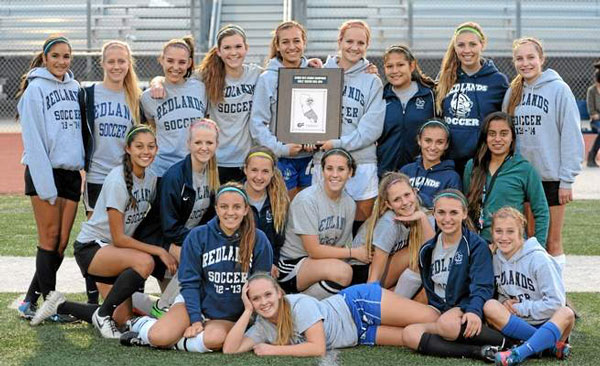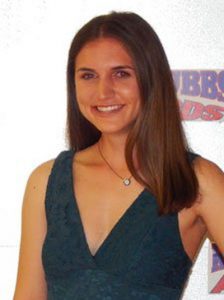 Maddie Jordan's accomplishments at Redlands High School rank near the top of that 125-year-old institution. Speaking from her dorm on the night before she started classes on academic scholarship at UCLA, Jordan did not mention half her prep achievements. It took a three-page bio sheet provided by the Ken Hubbs Foundation to list the details.
At Redlands, Jordan was a member of a record setting championship track relay team that won two CIF championships. Her Redlands relay teammates were Margaux Jones and Juanita Webster, two of San Bernardino County greats. As a soccer player, she was on three Citrus Belt League title winning teams, where she was twice named league Offensive Player of the Year and was picked multiple times to area and divisional 1st team selections, including being named 4-times, first team All-CBL.

Despite her athletic skills, Jordan said her scholarship at UCLA was for academics only. Without going into detail, Jordan said she had chances to compete at other four year colleges but wanted to stay within a "course of action." Her number one priority was a college close to her family in Redlands, preferably her dream choice of UCLA. Like her parents, Jordan will take courses toward a job in Geographic Information Systems.
"I think not getting an athletic scholarship was meant for a reason," said Jordan,18. "Playing sports at a Division-1 college is a huge time commitment." An academic scholarship helps but lack of a full ride means Jordan will have to work to help pay her way. She was just hired by the Boba Tea House on the Westwood campus after previously working at Uncle Howie's Pizza in Redlands. "I want to get a foundation of money because I do not want my parents to pay for everything. I'd like to graduate early."
Jordan learned her work ethic in part by many hours helping produce the RHS "Makio Yearbook." She was co-editor-in-chief her senior year when she ended up in charge of the entire yearbook class. "The artistic part of laying out and designing the yearbook was somewhat like athletics. Both are team orientated with the goal of working together for a common accomplishment." She said soccer standout Troy Fields was the other co-editor.
She casually spoke of many long weekdays going to practice, then work on the yearbook and doing homework, sleep four hours and return to school in the morning. "You just get used to it. It was good experience." She was still able to earn scholar athlete (above 4.0) all four years. Taking advanced placement classes, Jordan was able to earn a 4.35 GPA, good for 22 out of 583 graduating Redlands HS seniors.
RHS Athletic Director Jennifer A. Classen wrote that Jordan scored numerous points for the RHS track team in the 4×100 meter relay, 4×400 meter relay, and 100, 200, and 400 meter throughout her career. Jordan said it was a once-in-lifetime opportunity to be on relay teams with Jones and Webster.
Classen went on to list the volunteer capacities that Jordan served at her Holy Name of Jesus Catholic Church, helping administer holy communion, participating in confirmation program meetings and Lifeteen retreats. Classen wrote that her former student volunteered to tutor classmates and helped with the Possibilities Prom for special needs students.