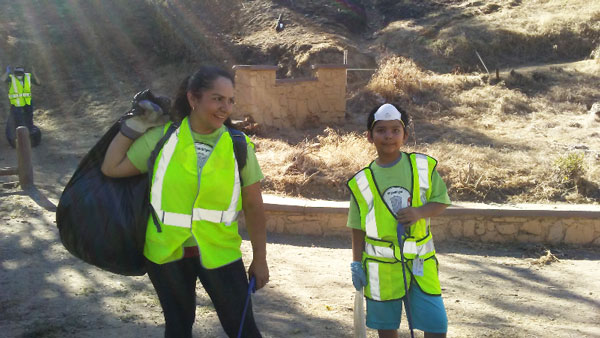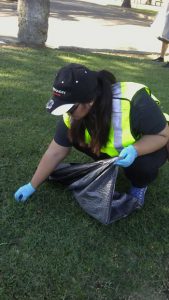 Clusters of neon yellow vests could be seen Saturday morning peppered throughout Perris Hill Park as nearly 100 volunteers combined their efforts to clean up one of the city's prominent parks. City officials, San Bernardino County Fire Hotshots, Cal State San Bernardino students, a group from Church of Jesus Christ and Latter Day Saints, and residents equipped with trash bags meandered their way along Highland Avenue between Valencia Avenue and Harrison Street picking up trash and debris.
"This cleanup effort is a continuation of things we have started doing to make San Bernardino better," said Mayor Carey Davis. "We are now starting to see the benefits of what we can accomplish together, and this is just one of the ways of how the city is working with the community."
The event's youngest volunteer, 8-year-old Domenick Rodriguez, has already involved himself regularly with local events.
"Domenick really loves his community and wants to do his part to help clean the city up," said his mother Brenda Rodriguez. "If we don't take care of our own space, who will?"
Approximately 70 students from Cal State eagerly participated in the cleanup effort, citing the same underlying reason of making a positive contribution to a city many of who will call home for the next four years.
"To see the younger crowd giving their time is positive reinforcement to our efforts," said Parks, Recreation & Community Services Acting Director Jim Tickemyer. "We need to reach out and connect with them as they will continue to move forward in turning this city around and changing its image."
Cleanup events are organized by the city's Quality of Life team and take place every quarter throughout the wards, coinciding with free dump days courtesy of Burrtec.
"When we do this it shows residents and business owners how committed we are to the city, and we can't do it alone, we have to do it together," said Lt. Rich Lawhead, San Bernardino Police Department Southern District Commander and Public Information Officer. "We can't rely on one entity to do all the work, we are breaking down department barriers to work toward the same goal which is the city of San Bernardino."
Bonnie Engle, who owns Salon Images close to the 64-acre park and lives nearby, expressed her gratitude to volunteers and the city. "This is by far the highest turnout we've seen, and I've never seen Highland Avenue this clean," she beamed.