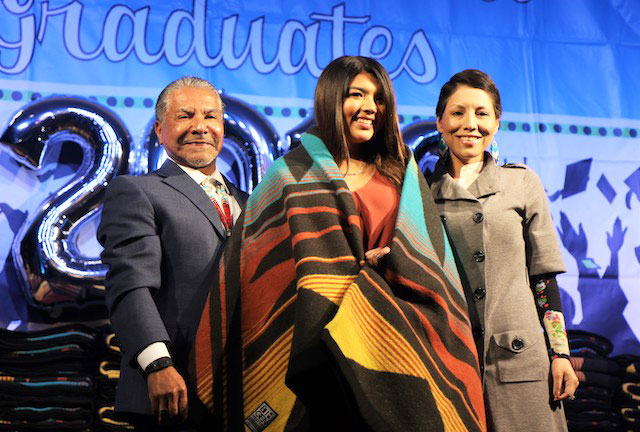 The Riverside-San Bernardino County Indian Health, Inc. Native American Resource Center hosted the 8th annual Native American Student Recognition Dinner at the National Orange Show. Approximately 100 Native American students were recognized from the San Manuel Band of Mission Indians and area schools including University of Redlands, University of California, Riverside (UCR), California State University, San Bernardino (CSUSB), Claremont Graduate University, Noli Indian School, San Bernardino City Unified School District and Banning Unified School District.
School officials called students to the stage individually to be recognized, where their loved ones wrapped them in a traditional Native blanket. The blanket has significance in Native American culture symbolizing warmth and support.

"As we know in order for us to individually succeed it often takes a collective effort of people behind you," said Claudette C. White, Chief Judge for the San Manuel Band of Mission Indians. "As indigenous people that is how we succeed, with our people at our side or behind us, pushing us, encouraging us, loving us along the way. We stand as giants on the shoulders of our tribes and ancestors who have paved a way for us to be here."
The celebration included Bird Singers from the Morongo Band of Mission Indians, Native hoop dancing performances from seven-time World Hoop Dance Champion Terry Goedel and his family and pow wow exhibition dances and a drum circle from the Bearspring Dance Group.