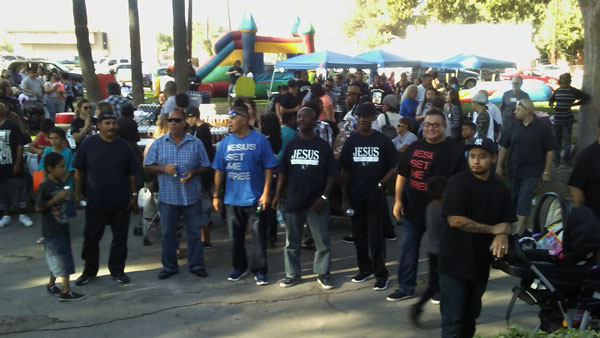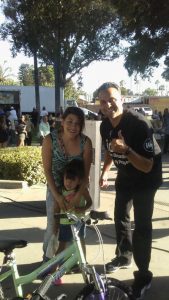 San Bernardino suffered its 49th murder this year late Tuesday night. At this rate the city is on track to record its highest homicide total in more than 20 years. In response to the spike in violence and to rally unity, heal and restore faith among a community still recovering from the Dec. 2 terrorist attack, over a dozen faith-based organizations joined forces in an unprecedented move to form San Bernardino Pastors United. The organization's goal is to identify and meet the essential needs of the community that would effect positive change through drug counseling and rehabilitation, job placement and strengthening families.
After five weeks of planning, the block party culminated late Saturday afternoon at La Placita Park on Mt. Vernon Avenue with a turnout of nearly 3,000 residents. A murder took place in front of the park's gazebo on the eve of the event.

"Those murders were not in vain because we're here now, today, together," said Pastor Rick Alanis Jr. of Victory Outreach clutching a microphone, perched on that same gazebo. "Because of those murders the churches are finally coming together and putting their own names down and the name of Christ above."
San Bernardino City Councilmembers Virginia Marquez (Ward 1), Benito Barrios (Ward 2), and Parks, Recreation & Community Services Interim Director Jim Tickemyer were in attendance, as well as Assembly member Cheryl Brown (D – San Bernardino).
The theme "You Can Come To Us" was inspired by the biblical verse "Come to me, all you who are weary and burdened, and I will give you rest," Matthew 11:28. Pastor Joshua Beckley of Ecclesia Christian Fellowship emphasized the churches' open door policy and their commitment to provide support and relief.
"You can come to us and we will make sure that your needs will be met," Beckley promised the captivated crowd. "Whatever challenges or difficulties you are going through, go to the nearest church and you will be helped."
Pastors David and Rick from Victory Outreach shared their personal experiences of gang affiliation and drug addiction, giving the audience hope that they, too, can overcome their vices through faith in God and a fervent commitment to change.
"I am the son of a preacher who used to sell drugs just to do drugs," admitted Pastor Rick. "Today I am no longer a gang member or oppressed by my drug addiction, today I am free of the chains of depression and drugs, and you, too, can triumph as we have."
An abundance of hotdogs, chips and beverages were there for the taking; residents also received free health check-ups and groceries. People were pampered with a foot wash and massage courtesy of volunteers prior to receiving free, brand new shoes.
"Today was an introduction to love and hope, and building the bridge to church, families and jobs," said Senior Pastor Marco Garcia of The Way World Outreach. "Today we have planted the seeds of hope, change and the promise of new beginnings."
Children were entertained by Suzie Zavala from The Way World Outreach who led them in song and cooled them off with water guns, as well as bounce houses and face painting. Four children's bicycles, a refrigerator and 50-inch flat screen television were raffled off to participants who held a collective breath while numbers were read. Michell Davis held the winning ticket for the refrigerator, very opportune since his recently went out of commission.
"This is a big step for the city in bringing some unity to this community, and we can bring about positive change through a united effort," said Pastor Marco. "People are asking for help, a sign that they want to better themselves, and we will continue to follow up on those needs to support them on their paths to self-improvement."
San Bernardino Pastors United is comprised of Ecclesia Christian Fellowship, The Way World Outreach, First Baptist Church, San Bernardino SDA Church, Victory Outreach, New Life Church, Church of the Living God Temple 208, Life Center Church, Life Changing Ministries, Westside Christian Center, Kingdom Culture Worship Centre, Catholics of African Descent, Spirit of Love Church, Immanuel Baptist Church, St. Timothy Community Church, San Bernardino 16th St. SDA Church, and Treasure of the Heart Ministry.