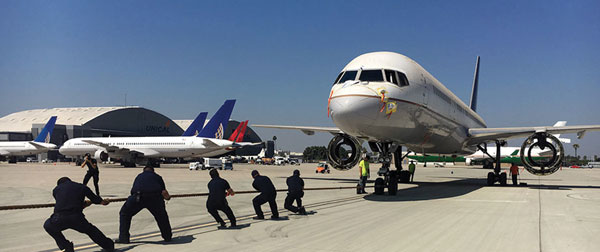 The skies over San Bernardino will be roaring Saturday as the annual air show — SBD Fest — returns to the SBD International Airport.
Featuring aerobatic performances headlined by the Patriots Jet Team, a country music concert featuring Thompson Square, and a car and motorcycle show, the second annual airfest is expected to attract thousands of airplane enthusiasts and families.

Among this year's event highlights include static aircraft displays, vintage car displays, motorcycle displays, military aircraft, aerobatic and aerial acts, a kid's zone, food trucks, beer, and several vendors and sponsors.
SBD Fest 2016 will also double as a fundraising event for local public safety agencies that played a critical role in the Dec. 2 attacks in San Bernardino during the friendly strongman-like competition, SB Strong 757 Plane Pull.
Using brute strength, a team of firefighters will face off with law enforcement to test which team can pull a 757 aircraft the farthest in two minutes.
Donations toward the SB Plane Pull can be made by individuals through the Strong Plane Pull website, www.anython.com/SBDFest2016PlanePull .
Donors can select a dollar amount per foot pulled or contribute a flat amount.
Funds raised for the pull will benefit the San Bernardino Police Foundation, San Bernardino County Firefighters' Association and the San Bernardino County Sheriff's Volunteer Administrative Support Unit.
Last year's inaugural event drew more than 10,000 spectators and was the first airshow held at the airport in more than 20 years. Mark Gibbs, director of aviation for SBD International Airport, says the hope is to not only build from last year's event, but also offer an opportunity to see the developments taking place at SBD International Airport and possibly even spark memories from the past.
"Many of our attendees last year spoke to us about being stationed and serving at Norton AFB, some having helped to coordinate the air shows our community so fondly remembers," Gibbs said in a news release.
SBD Fest, a one day event, is set from 9 a.m. to 6 p.m., Sept. 10 at the SBD International Airport, 1601 E Third Street in San Bernardino.
Ticket prices range from $5- $125 and are available at www.sbdfest.com/tickets. Admission is free for children under 5 and active military with ID.
For event schedule and to learn more, visit www.sbdfest.com.