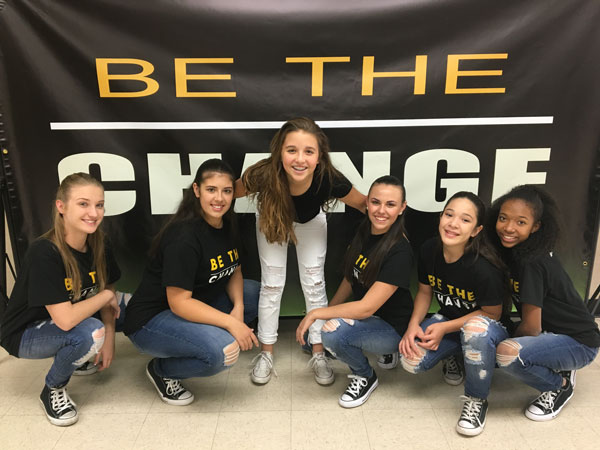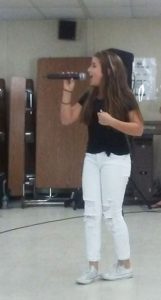 The mesmerizing voice of 12-year-old Aubree Archibeck captivated her young audience Friday, Nov. 18 when she delivered her message of self worth and value, and explained the detriments of bullying to Urbita Elementary School students in San Bernardino. This talented singer who has been dubbed the next Tori Kelly embraced the opportunity to use her vocal talent to make a positive difference in the lives of young students.
Aubree's close friends were victims of bullying, one of them is Ethan who found refuge in a school locker.
"My best friend was bullied, she was called 'ugly,' 'worthless' and threatened," Aubree said about what compelled her to take action. "When I heard about what happened to Ethan I was so outraged and thought that something needs to change."
Aubree, a Highland native who now lives in San Diego, very recently launched Be the Change tour with the Bethel Christian Schools dance team from Riverside to spread a message of love and acceptance through music via school assemblies. They are joined by a group of talented musicians – Bethel Assistant Athletic Director Earl McCullough, close family friend and mentor Gina Walden, and Aubree's parents Dionne and David Archibeck.
"Aubree wants to be different than the other artists out there and put her music to good use, not to waste her talent just on entertainment," Gina explained.
Urbita was the group's second school, following their launch at Cooley Ranch Elementary in Colton.
"I tell the kids that bullying is wrong and give them statistics," Aubree said. "Every ten seconds a kid is bullied, and 105,000 students skip school each day because they're bullied."
Aubree, who is currently on a musical tour with the Bethel dancers, easily engages with her enthusiastic young audience who bellow "no" in unison when asked whether bullying is acceptable.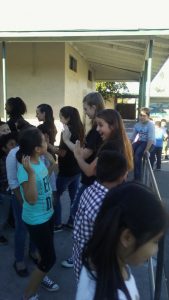 The tears and hugs she received from students following the assemblies and the immediate spike in the number of followers Aubree has on social media is proof that she is striking a chord with students and having a positive impact.
"I'm so touched to make a difference in their lives, and it's an amazing feeling when they give me big hugs," Aubree said. "I just want to show them that they're loved."
Aubree and her team are eager to book more dates for Be the Change. Those interested in scheduling an assembly can email ginawalden@msn.com.
Aubree's website is www.aubreearchibeck.com and you can follow her on Facebook: AubreeArchibeck, Instagram: aubree_archibeck_music, and YouTube: Aubree Archibeck.