27 Southern California employers pledge to hire grads of new homebuilder training program
3 min read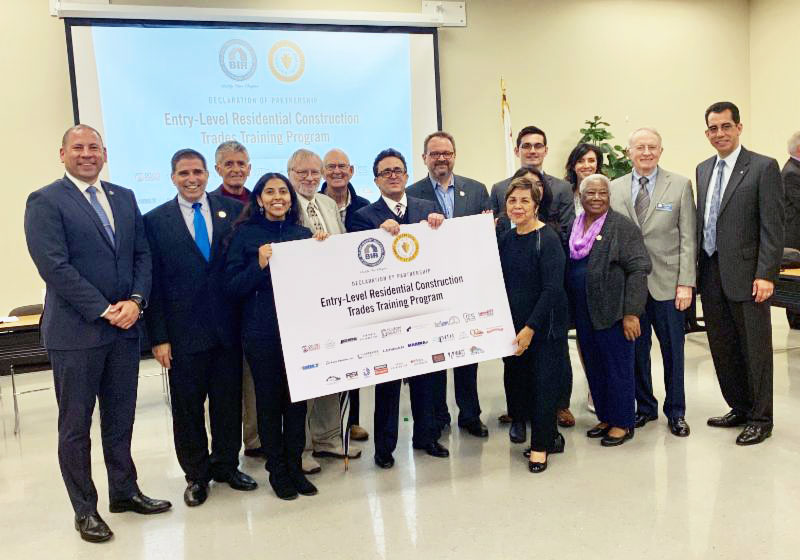 While California is experiencing a shortage of affordable housing, the home building industry is experiencing a shortage of skilled workers. 
"Statewide, more than 100,000 jobs in residential construction go unfulfilled," said Phil Burum, president of the Building Industry Association of Southern California Baldy View Chapter. 
On May 23, the BIA Baldy View Chapter and San Bernardino Community College District teamed up to announce a new training program that will prepare students for careers in the home building industry. A crowd of business leaders, county officials, and lawmakers attended the ceremony held at the SBCCD headquarters. 
"Addressing the labor needs of our economy is our highest priority," said SBCCD Chancellor Bruce Baron. "That is why we are proud to partner with the BIA Baldy View Chapter to equip students with real-world skills to be effective on the job on day one."  
Building homes is no easy task. Workers in this field need hands-on training to operate equipment while practicing personal safety, teamwork, and workplace communication. SBCCD will teach those skills valued by employers through the Entry-Level Residential Construction Trades Training Program. 
Participating students will receive 275 hours of instruction, culminating with a career readiness certificate recognized by the BIA Baldy View Chapter.  What is more, 27 BIA-member employers have pledged to give priority hiring consideration to graduates of the Entry-Level Residential Construction Trades Training Program. 
Partnering employers include: 
20/20 Plumbing & Heating, Inc.
Andrew Lauren Interiors
Boudreau Pipeline Corp.
Concrete Alliance, Inc.
Custom Quality Finish Carpentry
Diversified Pacific Communities
Duct Testers, Inc.
IES Residential
Infinity Plumbing Designs, Inc.
Joseph Holt Plastering, Inc.
Kana Pipeline, Inc.
Larrabure Framing
Lennar
Marina
MDI Interiors
New West Designs
OC Hills Masonry, Inc.
Overhead Door & Fireside Experts
Paulus Engineering, Inc.
RSI Energy
Rockwell Drywall, Inc.
Simpson Strong Tie
SoCal Framing, Inc.
Trilogy Plumbing Inc.
TWR Enterprising, Inc.
Watt Companies
West Coast Drywall & Paint
Kimberly Epps, San Bernardino County deputy chief probation officer, views this program especially helpful for formerly incarcerated individuals.  
"Ex-offenders making the transition from jail or prison to the community need a second chance at a better life, and with this career training program, we can give them the tools to start again," Epps says. 
The county probation department will collaborate with SBCCD to refer students into the program. The partnership could pay dividends for Inland Southern California, says Reg Javier, San Bernardino County Workforce & Economic Development deputy executive officer. 
"Our number one priority for this region is growing the economy in a healthy and diversified way," said Javier. "We do that with programs like this which give all of our residents the opportunities to earn a livable wage." 
Ali Sahabi, immediate past board president of the BIA Baldy View Chapter, underscored his confidence in the Entry-Level Residential Construction Trades Training Program. "This program between the BIA and the San Bernadino Community College District demonstrates the amazing results that can be achieved when public and private organizations collaborate. I am honored to be involved in this effort because it's a win-win-win: we're helping individuals restart their life, businesses find trained labor, and communities build more affordable housing." 
Classes begin this fall. For more information, tivasquez@sbccd.edu or (909) 382-4069.