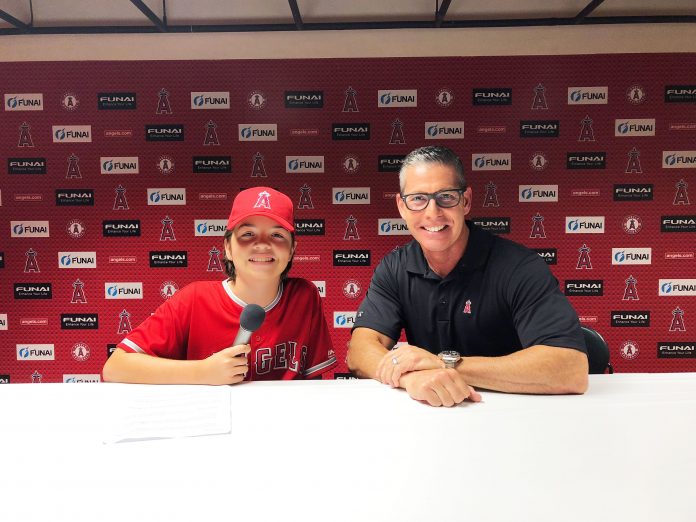 I recently sat down with Los Angeles Angels play-by-play television broadcaster, Victor Rojas, for a pregame interview:
Caden: Growing up with a father who played baseball professionally, did you always know you wanted to be a broadcaster?

Victor: Not a broadcaster, I wanted to be a player myself. It wasn't until later on in life that I decided to get into broadcasting. With four boys, three brothers overall, a lot of baseball was played going up. That is for sure.
You were the very first person to appear on MLB network when it launched, how exciting was that and were you nervous?
It was very scary, so yes, I was very nervous. I had never done television before on a full time basis, I had done just radio broadcasting. So when I got hired by MLB network I kind of had to learn on the fly. Pretty scary to be on that stage on the fly when we opened the show on the stage that first time.
You have spent time as a player, coach, and even the general manager of an independent team. Do you think this diverse background gives you a unique perspective that helps in broadcasting?
I think it does. Growing up in a baseball family provides most of my background. But I think from the different things that I have done in the game, has given me the opportunity to look at things a little bit differently. I can get a player's perspective, versus a general manger perspective, versus a broadcaster prospective. So I think it has kind of helped me round out my background a little bit.
What advice do you have for kids out there like me who want to become a broadcaster?
Keep doing things like this! A lot of interviews, a lot of reps. I would even do games if I were you sitting in the stands. Do play by play into a microphone and go back and listen to it day in and day out. That is kind of how I did it. I didn't go to school for broadcasting. I had to figure it out on my own. When I was working for the independent league team that was the first time I had ever done broadcasting. That is what I did. I basically went back and listened to my tape and listened to how bad they were. They sounded nothing like a major league broadcaster. But that is how you learn. You self-critique yourself to get better.
What is your favorite memory in your time with the Angels?
Wow. I would have to say probably the Jered Weaver no-hitter here against the Minnesota Twins. Albert Pujols getting his 600th homerun here against Ervin Santana was pretty cool.   But probably the Weaver one, only because he was drafted by the Angels, he is a SoCal kid, and to do it here at home with his mom and dad and wife here was pretty cool.
What do you think the future has in store for the Angels the rest of the season?
Well, it has been a tough year this year. Hopefully they can play a little better baseball over the next six weeks.   They have played pretty good here on this home-stand. They have won four straight, so we will see what happens. But overall if you can make some sort of a run somehow – if Shohei can come back and pitch a little in September and add to the offensive side of things maybe they can make some noise against the A's and maybe the Mariners.
Okay! Thanks for the interview!
My pleasure, buddy!