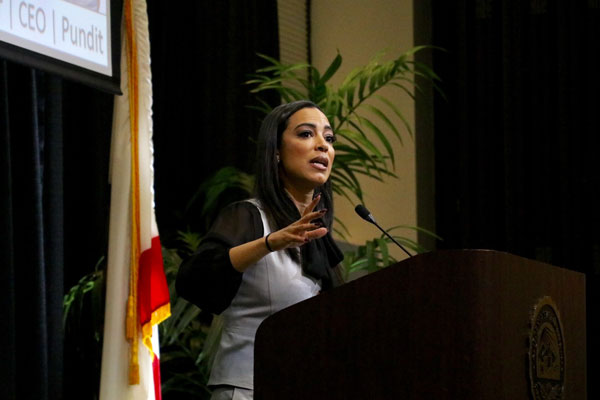 Political Commentator and News Correspondent Angela Rye spoke to Cal State San Bernardino student organizers last Saturday about the importance of "staying conscious" in the midst of political turmoil.
Rye, who makes television appearances on CNN, told over a hundred students that attended the Social Justice Summit at the university that they could use the concept of power to do good for their communities.
"It's very important for us to feel and understand the importance of having the ability to achieve purpose," she told the crowd. "We've been conditioned in our minds, black and brown people, to not trust each other because we 'steal', because we're 'hustlers.' That could be further from the truth."
Rye believes current criminal justice and immigration policy is designed to undo the tenets of civil rights in the United States.
"They're trying to undo the second frontier of this civil rights agenda because they think if you take the power, you're going to use it to oppress them," Rye said.
Rye urged students to turn the concept of power on its head and reclaim it for unity.
"Now more than ever we have to reclaim our power because it's being used for bad," she said. "We have to take our power back because our lives depend on it."
In addition to Angela Rye's keynote speech, several workshops were held throughout the day to discuss the importance of lobbying, how to be become an activist, how to become inclusive, and how to maintain a balanced lifestyle.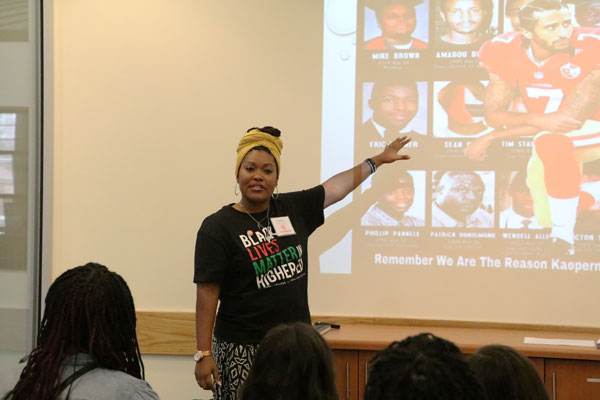 Several student activists also provided testimony about how they have overcome obstacles to empower themselves and others.
"As immigrants we are resilient," said fourth year student Estefania Esparza, who recently became a legal permanent resident. "Now more than ever it is important that we share the hardships we endure and fight for the human rights of our brothers and sisters."
Cal State San Bernardino Vice President of Student Affairs Dr. Brian Haynes said those issues relating to immigration, criminal justice, and education affect a large number of students on campus. He urges students to speak up about subjects they are passionate about.
"Everyone in this room has a voice," Haynes said. "And we encourage you to be heard across campus, across the community, the state, our nation, and the world."