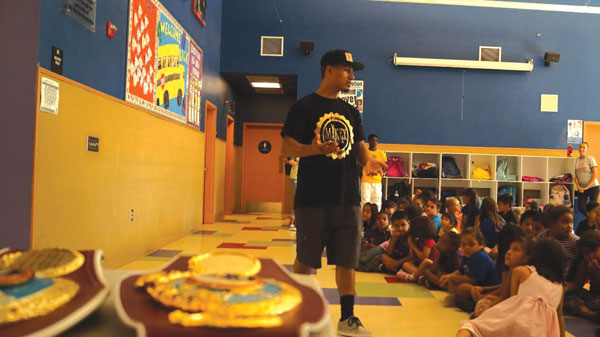 Miguel Angel "Mikey" Garcia believes that in order to be strong in life, you have to pack a powerful punch, mentally that is.
The professional boxer shared encouraging words with members of the Boys & Girls Clubs of Greater Redlands-Riverside Aug. 26, spreading the message that education is the key to success and one should never give up.
"Don't let anyone tell you it's impossible or don't tell yourself that … That's how I box, I don't believe anybody can beat me. I win the fight up here (mentally)," Garcia, 28, said to youth while visiting the Hansberger Clubhouse in Redlands.
He brought his two championship belts to the Club, and spoke to Club members about his path through college and in the police academy, his boxing career and how he got to where he is, and the importance of an education.
"Boxing is very important to me because that's what I do, but more than that, school … I'm not going to box the rest of my life. So you guys all need to make sure you go to school."
As a youth, Garcia attended the Boys & Girls Club in Oxnard and said while growing up, he saw kids who weren't involved in after school programs out on the streets, joining gangs and smoking and drinking. "The Boys & Girls Club helps kids stay away from those bad influences," he said.
Boys & Girls Club vice president Mark Davis said in a news release that "the Club was grateful for Garcia's insights."
"It's important for our members to hear that they should stay in school and can accomplish anything no matter what their background is," he said.
After Garcia's program, children were given the opportunity to pose for photos and receive autographs from the athlete.