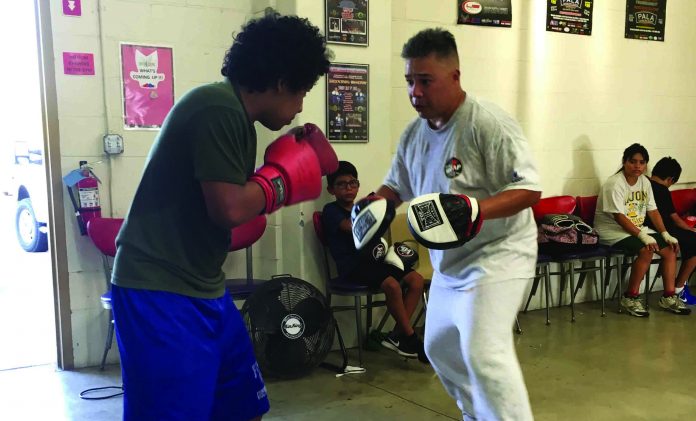 California Institution for Men (CMI) correctional officer Refugio Serna had a memorable boxing match in the recent edition of the Battle of the Badges–a charity boxing event that helps raise thousands of dollars for after school programs.
Despite losing to Riverside County Sheriff's Deputy William Adams, the 36-year-old father still considers himself a winner. He said the time he spends mentoring his 8-year-old son Julian and other youth at the Cops4Kids Gym in Colton has helped him see community growth first hand.
"These are four days of the week that I can be closer to my son," Serna explained. "He comes here because he wants to like all these kids. It's good seeing their hard work and progress. They put it all out there."
Serna attributes the youth's development to Cops4Kids Gym Director Carlos Palomino's his stern discipline, organizational principles, and his willingness to help others.
"He welcomes any child who is willing to put in the time and effort that's required to be a well-disciplined boxer. Carlos and all of us here want kids to have trust in us. We want them to perceive us as friendly [people]."
Palomino, 53, of Bloomington claims he has helped hundreds of youth in the San Bernardino Valley for the last two decades through his training and mentorship. He said many of his former students have returned to instruct the "next generation."
"The relationship these young kids establish with our trainers is long-lasting," he said. "It's heartfelt to see the bonds these men have with these young boxers. It's awesome."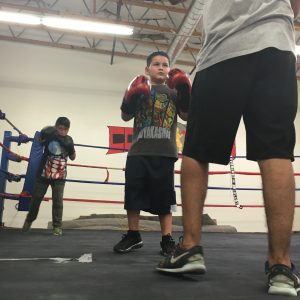 The program is mostly funded through donations and fundraising efforts, such as the Battle of the Badges, and business partnerships. Lenos Ricos Tacos has contributed to the Cops4Kids program through food donations, while others have donated equipment.
Around 80 to 90-percent of the youth who participate in the Cops4Kids program live in Colton, according to Palomino. Trainers interact with children ages 8 to 17, teaching them techniques such as sparring, counter-punching, and feet moves. At the end of each practice, trainers and boxers gather to speak on themes relating to school and life.
Palomino said he considers boxing to be a "non-prejudice sport."
"What you put in is what you will get out of it," he said. "Everyone can get involved, and everyone gets treated with respect here."
Palomino believes the program helps create stronger relationships with at-risk youth, who may otherwise have nothing else to do.
"We have awesome officers that can provide help to these kids," he said. "A lot of them are giving up their time to be here. They sometimes have to work double shifts to train and also compete. What they get out of the experience
Marcos Vasquez, 17, said he enjoys going to gym because he is treated with respect. "They are good coaches. They show that they care for us."
The facility is located at 1589 Bordwell, Unit C and is open is open Monday through Thursday. For more information, contact Carlos Palomino at cops4kidsboxing@cs.com.