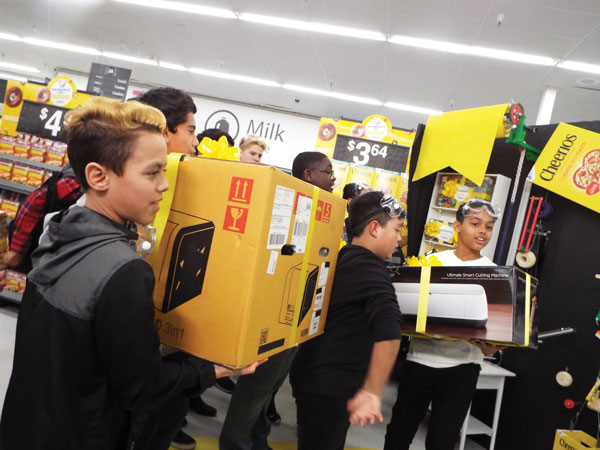 Some big surprises were in store for the Kucera Middle School Robotics team last Friday, January 26, 2018. Told that they were going over to the Colton Walmart to get some prizes from winning a prior robotics competition, they were surprised to walk in on a full-fledged television production set up just for them.
A production agency that works with General Mills had set up a mechanical background with the help of Joseph Herscher, star of YouTube's Joseph's Machines and self-billed as an "inventor of useless machines."
The Kucera Middle School students were brought onto the set and invited to help Joseph as they set off the staged domino-like Cheerios boxes to turn other gears and make the machine work its synchronized steps.  As the machine ended its tasks, students were presented with several gifts for their school which included chess games, Lego robots, LPs to make robots, a Cricut cutter and a 3-D printer.  Along with all those surprise gifts, General Mills also presented the school with a check for $5,000.
But perhaps the biggest surprise of all is that the production videos shot of the students speaking with Joseph and receiving their gifts will be featured on the Cheerios YouTube channel. It will be housed there as part of the Ellen and Cheerios 'One Million Acts of Good' campaign.  What that means is that the school could end up being featured on the Ellen Show in the near future!
The Kucera Middle School Robotics team was nominated for the honor after having participated in a Rube Goldberg machine competition.  After hearing about the outstanding students and doing some thorough research, The General Mills agency saw that the Rialto Kucera Middle School's Robotics program had started from nothing and had been built into a successful program in a very short amount of time.  The deciding panel felt that the Kucera Middle School efforts warranted this special recognition of the students and their school.
Many Walmart employees on hand to watch the production were also part of the video.  Many shoppers stopped to watch the whole process and congratulate the Kucera students on a job well done!
We're excited to see the end product and encourage you to check the Cheerios YouTube channel to get a glimpse of Kucera Middle School students and staff members enjoying this memorable day (video had not been uploaded at time of publication). And of course, we're all hoping we'll see them on the Ellen Show sometime real soon!