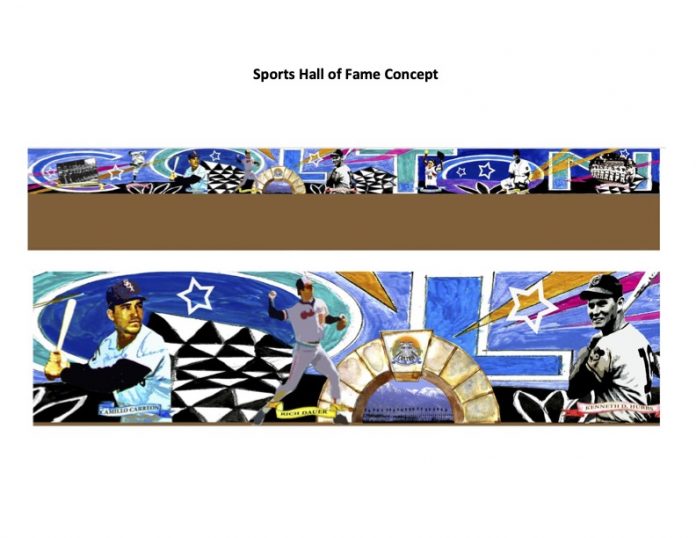 At the Tuesday, January 17 Colton City Council meeting, the council approved the installation of the city's third mural along the wall of the C Street underpass and Burlington Northern Santa Fe (BNSF) railroad tracks. 
This is the third of three murals approved by the city with funding from Union Pacific Railroad Company (UPRR).  
The mural was approved by a vote of three to two, with Council members Gonzalez and Chastain voting no.
While there was no explanation for their opposition to this mural, the council members may have opposed the selected image.
The approved image for the third wall is Colton's sports hall of fame. It will feature former athletes of the city as a way to celebrate, inspire and educate the city of Colton and its residents.
The city's agreement with UPRR is to paint and install three murals along the walls of La Cadena Drive and the I-10 freeway bridges.
Two murals have been completed along La Cadena Drive/I-10 underpass and the 9th street/I-10 underpass.
As part of the original agreement, the third mural was supposed to be located at the BNSF bridge over the Santa Ana river.
But due to the railroad and flood control permitting process, and maintenance issues, the location was scrapped.
At the city's Beautification Committee's June 24 meeting last year, the committee relocated the project to its current location of the C Street underpass and BNSF railroad tracks.
At this same meeting, the committee reviewed the original proposal by the artist for this project.
The proposed image featured Colton's history accompanied by a train. After reviewing the image, the committee asked the artist to prepare another concept using Colton's sports hall of fame.
The image was then proposed and approved by the committee at its December 1 meeting last year.
Mural artist Elisco Silva is credited with doing the city's first two murals and is expected to be contracted for the third one, up to December 31, 2023. For more information or updates on the mural, feel free to visit Colton's city page.