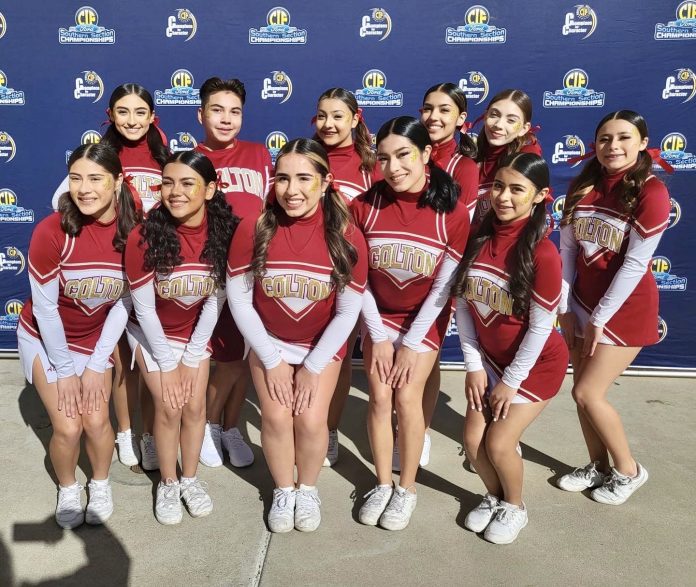 On January 21, Colton High School (CHS) Cheerleading placed fourth in the California Interscholastic Federation's (CIF) 2023 Traditional Cheer Championships, which was held at MLK High School in Riverside.
The team made history by registering for the D-3 Co-Ed Section, and becoming the first team from CHS and the district to participate and place in the competition.
"In 2018, the CIF finally started recognizing cheer as a sport. So I started coaching at CHS in 2019 and as we were going to compete in the CIF Championship during the 2019-2020 school year, COVID-19 shut everything down. So this was the first year we were able to compete at the CIF level where out of seven teams, we placed fourth," said Cheer Advisor and Coach Gevina Parra.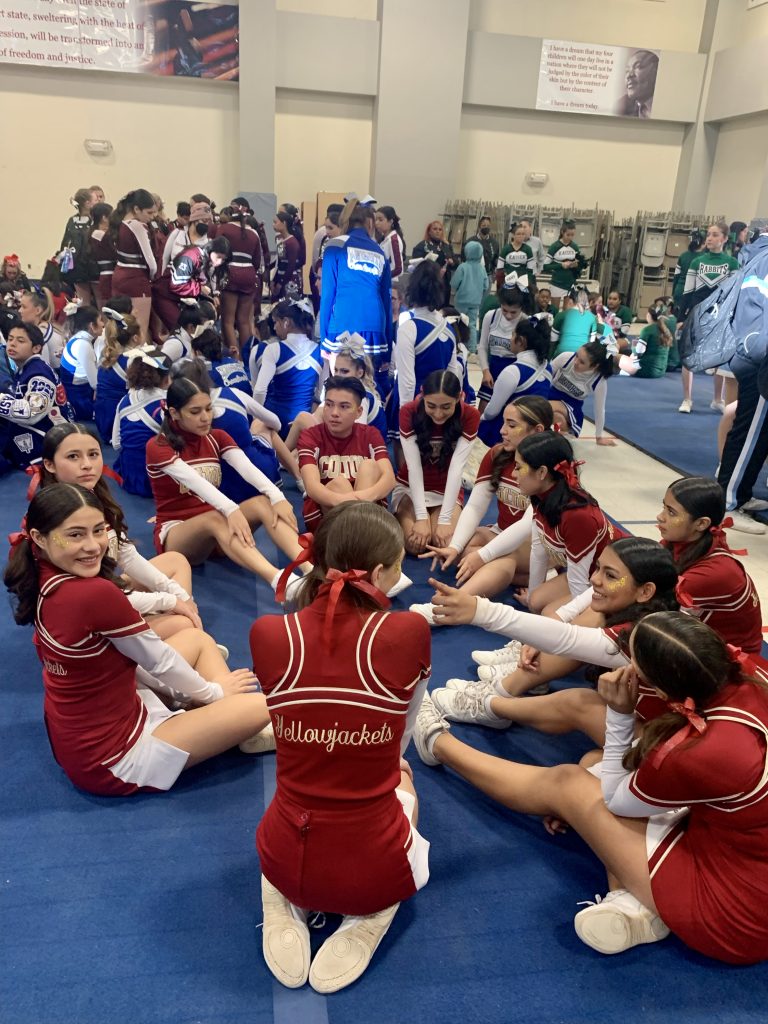 Parra, who is a CHS alumnus herself, said she is proud of the team's accomplishment, as they only began practicing for the championship on November 15, 2022.
"Colton High School Cheerleading is a new freshman team and we didn't have a lot of time to practice, as much time between November 15 and now was the holiday season. But still, they continued to condition, practice stunts, and routines on and off campus, with the team and on their own," continued Parra.
She is proud to see progress being made where the public is recognizing cheer as a real sport.
"People often think of cheer as looking cute in a skirt, but it's anything but that. These girls and guys are throwing people into the air and oftentimes are at risk of suffering injuries. When they condition they're running, performing actual jumps, hitting the weight room after school, and stretching," Parra said.
One inequity that cheer has endured for decades, not just in Colton, but across the country is the lack of funding provided.
"Cheer has to fundraise for everything. For instance, we've had to fundraise every year for our coaches to gain summer camp credentials where safety basics are taught, including first aid, CPR, and concussion and cardiac arrest awareness and identification. Cheer is always an out-of-pocket expense for our families, but this year the school found money in its budget – and this is a big step forward," said Parra.
In December 2022, the high school's athletic director reached out to Parra regarding a surplus in the school's general budget and she saw this as an opportunity to attain uniforms for the next school year.
"The athletic director asked me what was on my wishlist and I quickly said uniforms. I went out and got a quote that day and now, next school year we are going to be able to provide up to 20 students with CHS cheer uniforms; which eliminates an expense for our parents. It's awesome to see our school and the CIF starting to recognize cheer as a sport and our girls as athletes," concluded Parra.
What is next for CHS Cheerleading? They're hosting a Showcase of Champions on Friday, March 10, at 5 PM at the Ken Hubbs Gymnasium. All local high and middle schools are invited to participate and showcase their best routines.
For more information, email Gevina at gevina_parra@cjusd.net