Colton's CITY TALK Recognizes Heinz Niemann for 22 Years of Service
2 min read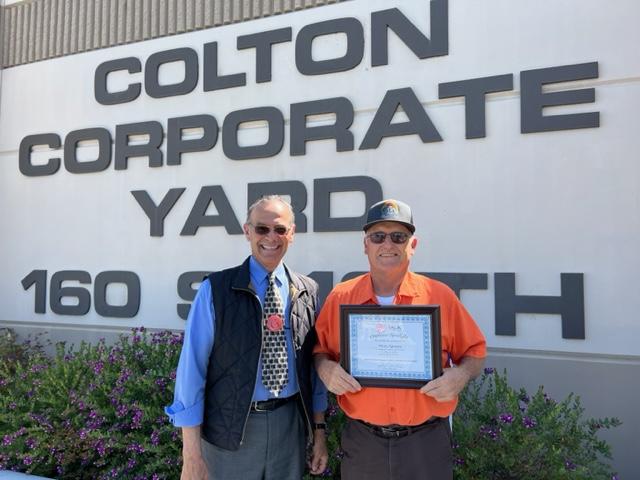 On Thursday, April 6, Council Member Dr. G (Dr. Luis S González) presented the CITY TALK "Employee Spotlight" recognition award to Heinz Niemann, currently a Maintenance Level II in the Parks Department, which is a division of public works.
In this position, Heinz is responsible for taking care of all landscaping at several city facilities, including the community parks, City Hall, the Public Library, Colton Area Museum, and the Police Department.
For 22 years, Heinz has served our city and over that time has stuck to his two most important work values as stated, "First, finish what you start, and second, do things the right way from the beginning."
Born in Tacoma Park, Maryland, Heinz moved with his family to California, and then lived in several locations as well, including Europe, Venezuela, Colombia, Austria, before settling back in California. Of interest was his specialty of growing and harvesting Haas avocados while in Colombia, including the introduction of the fruit to the country, which actually originated in California.
If you drive by one of these facilities during the work week, you'll probably see Heinz working diligently on the landscaping, and then meticulously completing the clean-up. Heinz is a hard worker and is truly dedicated to doing a good job…all the time. No shortcuts with Heinz! Street and Parks Supervisor Fernando Ramirez commented, "Heinz is always on the job. We are fortunate to have such a hardworking and dedicated employee."
We are certainly proud to recognize all our employees in the City of Colton. However, time and opportunity are limited, so an "Employee Spotlight" allows us to recognize the individual efforts of employees who really stand out for their dedication, hard work, and long-standing service to our various departments, and the community." The CITY TALK "Employee spotlight" recognition award was established in 2020 to recognize these great efforts.
Indeed our city has great employees who work hard and care about our city. They do what needs to be done, and care about our city. Thank you Mr. Heinz Niemann for all your hard work, and congratulations on this CITY TALK "Employee Spotlight" recognition award.
For more information about CITY TALK, various community groups, Colton history, the trash clean-up project, the G-Team, prayer list, history briefs, Veteran Spotlight, Church Spotlight, Business Spotlight, U.S. Flag watch, neighborhood meetings, community projects and events, or the online live-stream programs, text or call Dr. G @ 909-213-3730.
Dr. G is the founder of CITY TALK, a City Council Member and well-known community advocate. Questions and comments are always welcome.