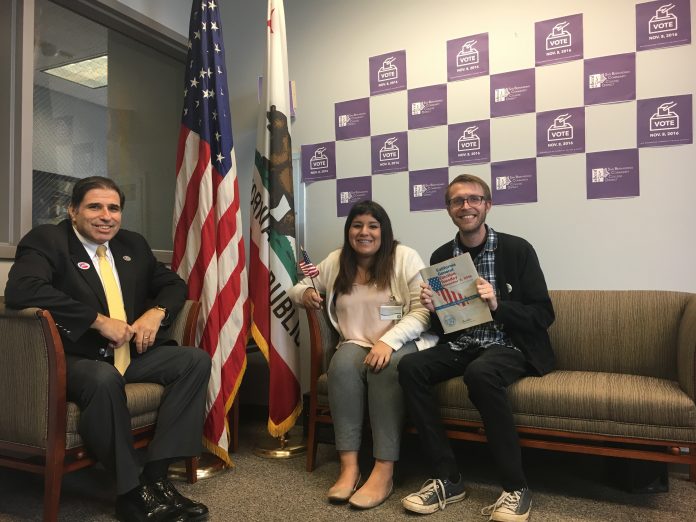 San Bernardino Community College District (SBCCD) officials provided student leaders a boost in their efforts to increase voter registration and participation.
The district, which oversees Crafton Hills College and San Bernardino Valley College, approved a resolution on October 20 to sign a memorandum of understanding with the California Secretary of State's Office to implement a voter registration project.
According to the memorandum, the district will work with State Secretary Alex Padilla's office to host voter engagement events, integrate online voter registration with class registration and enrollment, and access to polling places at both campuses for future elections.
SBCCD is the first community college district in Riverside and San Bernardino counties to sign Padilla's California Students Vote Project agreement.
"I give students all the credit," said Chancellor Bruce Baron. "They are the ones who made the commitment to register new voters. I'm very proud of the students who are being so active with this."
Only 52 percent of eligible youth were registered to vote in the state before the November 2014 election with only 8 percent of eligible youth turning out to vote, according to data from the California Secretary of State's Office.
Crafton Hills student Cindy Omaña believes the key to increasing voter participation among students is helping them feel inclusive.
"We want to know if our voices are being heard," she explained. "Students know what's going on. The issue is being able to keep students in the conversation."
A $10,000 grant was awarded to each college in September to help launch a civic engagement project to train student volunteers to register voters and educate their peers on this year's election using WiFi-enabled tablets and other nonpartisan material.
Student leaders at Crafton Hills College and San Bernardino Valley College registered approximately 120 students to vote by holding forums on state propositions, get-out-the-vote rallies, and working with the Political Science departments to make in-class presentations.
"This is a milestone for community colleges," Aguayo said. "It's never been done at this level before."
Crafton Hills Student Outreach Volunteer Jordan Mack hopes that their efforts will "flip the millennial vote."
"Talking about the elections will help," Mack explained. "The millennial generation knows about the issues facing us all. If we could keep these students invigorated with the passion of making change, we will make a difference."