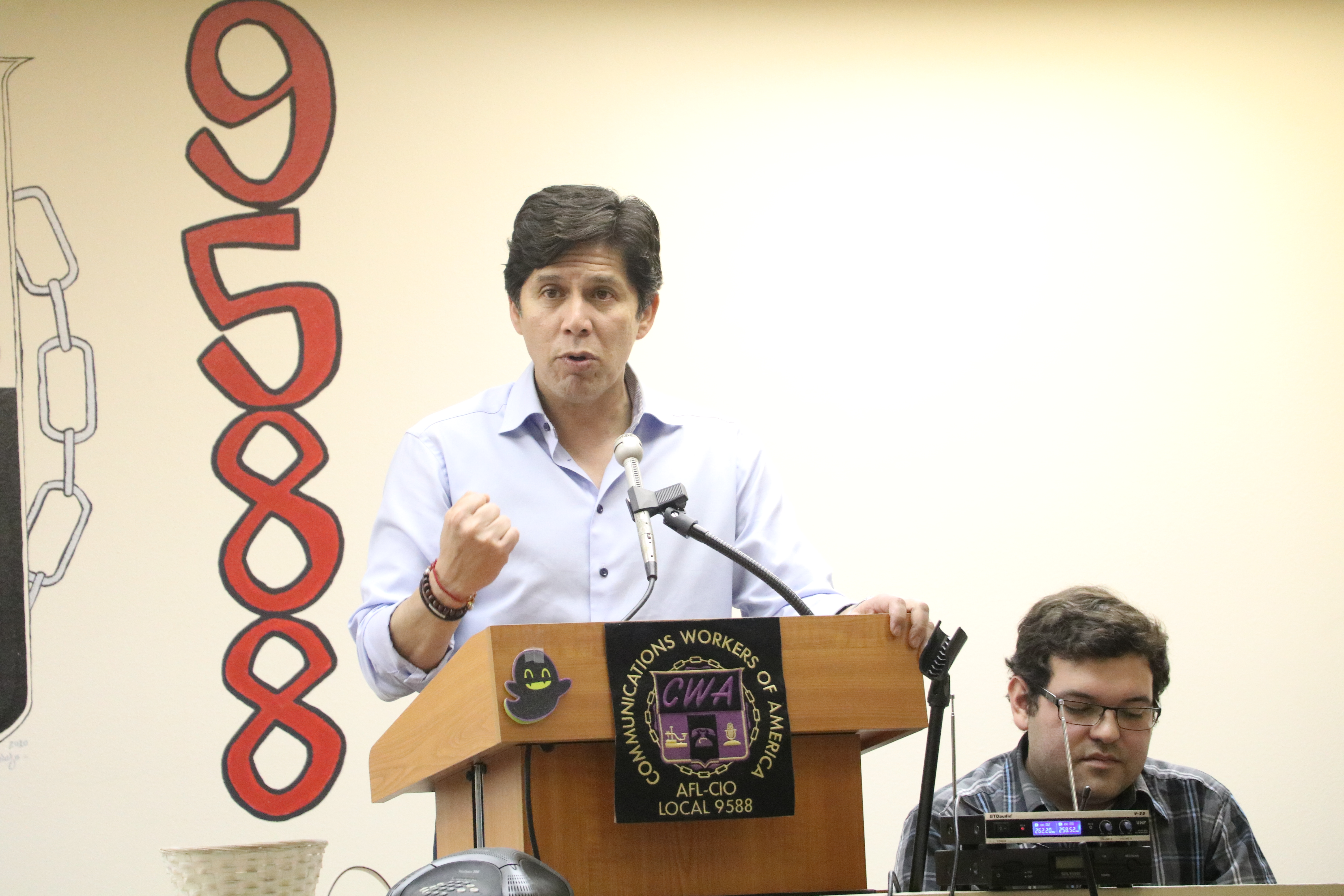 California Senate Pro Tem Kevin de León (D-Los Angeles) told local democrats last week that he's aiming to take the state's progressive values to Washington D.C.
"It is time as Californians to unite as proud progressives because that's who we are," said De León, addressing over a hundred people during the San Bernardino County Young Democrats meeting at the Communications Workers of America Local 9588 in Colton on Friday January 5.
De León, 50, announced last October that he would run against fellow Democrat Dianne Feinstein (D-San Francisco) in this year's U.S. Senate election. He has served in the California Legislature for nearly 12 years–four as an assemblyman and eight as a state senator.
Some Democrats across the state view De León as a leader of the resistance against what they perceive as President Donald Trump's xenophobic and anti-democratic agenda. He authored the California Value Acts (SB 54)–the so-called "Sanctuary State" bill that limits the states cooperation with immigration officials–and has advocated for aggressive fossil fuel reduction.
"I may not look like a leader in the eyes of Donald J. Trump," said De León. "But that's the beauty of the diversity of California. It gives you the opportunity to succeed, no matter who you are. When I fight to move policies to improve the human condition, it's not just for democrats but for Trump supporters as well."
De León was critical of Feinstein's incrementalist approach, which he believes has done very little to improve domestic issues. The Senate Pro Tem believes his candidacy will represent an alternative way to do things–one that "shares the values and courage" of Californians.
"We don't play small ball," said De León. "It is time to stop biting our tongue and playing at the margins. This is the greatest state in the greatest nation in the world. You should be whoever you want to be. I will do that for you if you give me the opportunity."
Others in the audience were less intrigued by De León's "progressive" approach. At least one person criticized the state senator for supporting the shelving of environmental legislation that would have blocked the controversial Cadiz groundwater project.
Conservative activists in attendance protested De León's presence by shouting "Kevin, you're no leader" as he spoke. 
"Kevin de Leon is not a good leader because of what he represents," said Rodriguez. "He is trying to promote illegal immigration whatever way he can. I think he's wrong in what he's done."