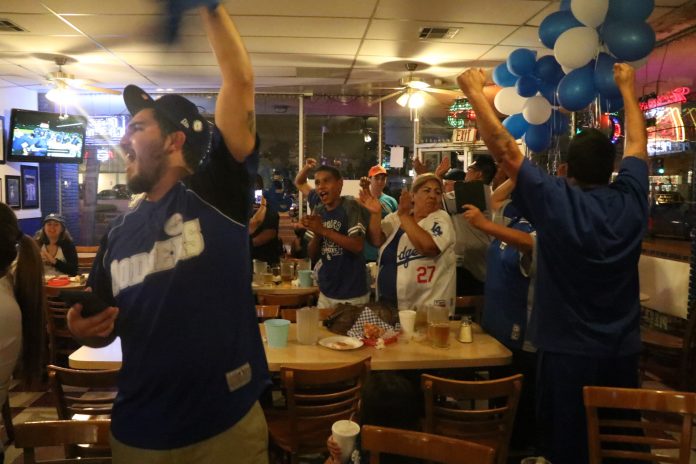 The Los Angeles Dodgers are back in the World Series–and they did it in colossal style.
Outfielder Enrique "Kike" Hernandez hit three home runs, including a grand slam, during Game 5 of the National League Championship Series against the Chicago Cubs to secure their return to the fall classic.
Local fans, both young and old, who have watched their team fall short for years leading up to Thursday were left without words. It's the first time in nearly three decades the "boys in blue" will host a World Series game at Dodgers Stadium.
"Words can't explain how I feel right now," explained Ray Torrado, 57, who owns the Pizzadilly Dodgertown restaurant in Colton. "It's a great feeling."
Dozens of people watched the Dodgers win the pennant at the pizza establishment with family and friends. Colton resident Lorrie Calderon said she was in "blue heaven" after seeing infielder Charlie Culberson catch the last out.
"It's a beautiful day," Calderon said with tears in her eyes. "We've been waiting so long for this."
Calderon attributed her emotions to the moments she spent with her father–a Mets fan–watching both teams face off at Dodgers Stadium. Seeing the "historic moment" unfold is something only devoted fans could enjoy, she explained.
"Unless you're a die-hard Dodgers fan, you won't know the feeling," Calderon said.
Younger fans weren't around the last time their team won the World Series in 1988. Frank Mendez, 21, would listen to the stories of his grandfather witnessing Orel Hershiser's two complete game victories and Kirk Gibson's memorable walk-off homerun against the Oakland Athletics.
"I've been a devoted fan ever since I could remember," he said. "I'm hoping they could win another title for my grandpa."
Highland resident Andrew Lizotte, 32, couldn't think of a better spot than Pizzadilly to see the Dodgers win.
"I love this place and all of its memorabilia," said Lizotte. "I can't believe this has finally happened."
Angel Gonzalez, 22, who watched Game 5 of the NLCS with his children and wife, believes taking in games at Pizzadilly is just as suspenseful as watching it live at the stadium.
"This place is off the charts," Gonzalez exclaimed. "The atmosphere is great and the service better."
Torrado was 28 years old the last time the Dodgers won the World Series. He believes this will finally be the year LA ends their drought.
"I think it's finally going to happen," said Torrado. "They're going all the way."
---
Join our newsletter for weekly wrap-ups of our community coverage, exclusive advertising opportunities and local business specials!