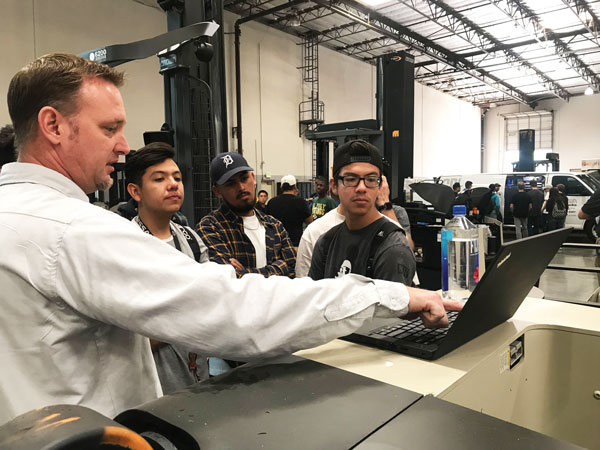 On Friday, Nov. 17 more than 50 students from the automotive programs at Rialto and Yucaipa High Schools toured Crown Lift Trucks' state-of-the-industry facilities in Ontario. They got a first-hand look at the sophisticated technology behind their world-class lift trucks, explored careers and auto and diesel technicians and participated in STEM (Science, Technology, Engineering, Math) activities.
"These Future Tech Events are a way to give local students interested in a technical career the chance to meet with regional employers to ask questions, get up-close-and-personal with the equipment and learn about the skilled training needed to pursue their dream careers," said Daniel Sweeney, Regional Director of Field Admissions, Universal Technical Institute.

The students also learned how they can get the education and training needed succeed in automotive and diesel technician jobs, which are abundant, pay well and offer plenty of career opportunities.
"When our students visit a successful business like Crown Lift, they get a hands-on glimpse of what their career path can be," said Ryan Crabtree, automotive technician instructor at Rialto High School. "Students can leave our program at Rialto, go through training at UTI and land in a career where they are all kinds of opportunities."
According to new Bureau of Labor Statistics numbers, more than 120,000 new automotive and diesel technicians will be needed each year in the coming decade to meet industry demand.