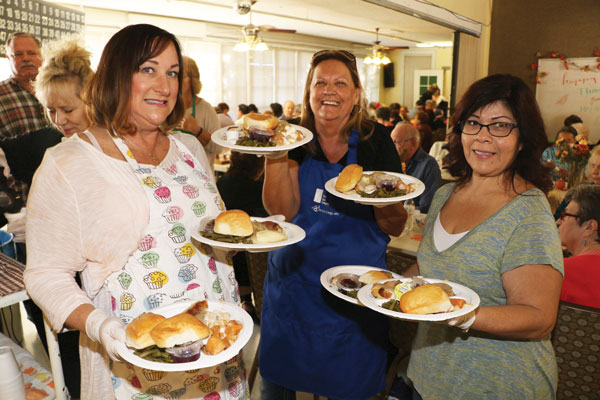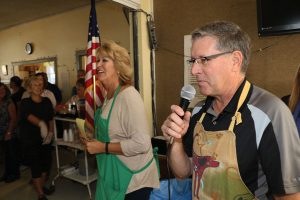 On Saturday, Nov. 18 the Highland Senior Center held its annual Thanksgiving event. All seats in the house were taken. Over 300 meals were served consisting of a traditional Thanksgiving feast with all the trimmings and dessert.
Highland Senior Center Executive Director Penny Mandigo Lilburn, who is also the Mayor of the City of Highland, opened the festivities by thanking her staff, volunteers, patrons, and guests. Jeff Novak gave the invocation.
Several volunteers came to help with the Thanksgiving meal. Many of those serving were from the Southern California Gas Company who have faithfully assisted the senior center since 2006. Gas Company volunteers helped with traffic and parking control, food preparation, meal service, and cleanup after the event.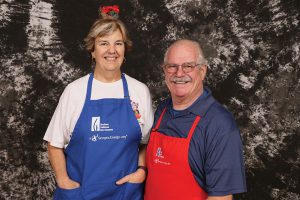 Among the volunteers were a few senior center members such as Michael and Sharon Pierce. The couple volunteer at the senior center during the week – Sharon helps out in the thrift store and Michael helps with organizing field trips and serves lunch to members. Michael recently retired from Beaver clinic and was recruited by his wife Sharon to help at the senior center. The Pierces are also active members of their church, Calvary Chapel of San Bernardino.
After Thanksgiving dinner guests were invited to have their portraits taken by a local photographer who donated his services to the center.
The Thanksgiving meal is just one of the many activities provided by the Highland Senior Center, which offers a variety of classes, activities, field trips, lunch programs, outreach programs, free ballroom dance classes, and a "Koffee Klub".
Seniors who reside anywhere in the Inland Empire are welcome to join the Highland Senior Center, located just inside the main entrance of Patton State Hospital, 3102 E. Highland Ave.